Are climate experts concerned about climate change in the Midwest? Yes and no
Climate change brings some benefits, some detriments to agriculture in the northern Plains. Midwest climatology experts see that change is here and farmers are taking notice.
The northern Great Plains region plays an important role in providing food security for our nation and abroad.
A change in the weather can quickly impact the ability of a small number of farmers to continue to fill the needs of the majority of the population. Take for example 2012, when 80% of agricultural land was hit with severe drought in the United States. Livestock, wheat, corn and soybean production losses in the Midwest accounted for $14.5 billion in loss payments by the federal crop insurance program.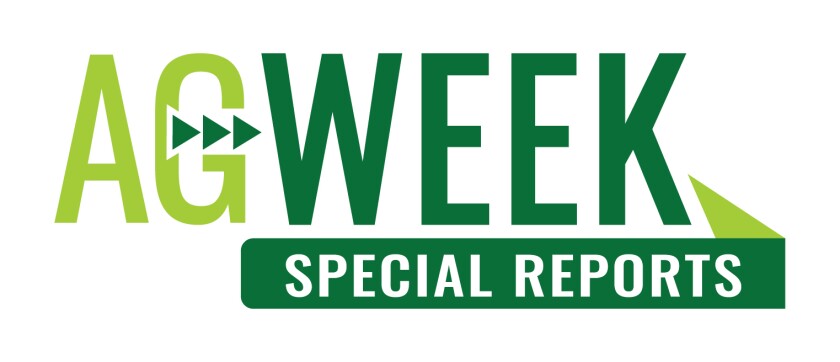 Climate plays an important role in agriculture, and changing — and sometimes more erratic — weather patterns can mean changes for agriculture. But programs addressing climate change also hold opportunity for the industry. We explore what's going on in the climate of the northern Plains, what it means for agriculture and food, and what new climate programs and projects can mean for farmers and ranchers.
Five years later a flash drought in 2017 stymied pasture land and crop production in portions of North Dakota, South Dakota and Montana. The resulting losses of winter and spring wheat, oats, and forages such as alfalfa and pasture grass exceeded $2.6 billion, according to the National Centers for Environmental Information. The 2017 drought led to widespread wildfires, poor air quality, damaged ecosystems, and degraded mental health.
Though improvements in drought forecasts have been reported, recent flash droughts that led to billions of dollars in losses over the Great Plains like 2012 and 2017 were not predicted.
Another few years and here we are again in the midst of a drought that has lessened some over the 2022-2023 winter to the point where about 38.5% of U.S. states have at least some level of drought, according to the U.S. Drought Monitor in March 2023 .
While weather has always been variable for the center of North America, these patterns are causing a trend in the climate that's not going unnoticed by those whose lives revolve around it.
The Minnesota Department of Natural Resources tracks climate trends in the state. It outlines several changes that could bring change to agriculture. Substantial warming during winter and at night, increased precipitation, and heavier downpours are some of those.
"Minnesota is warming rapidly, especially in the winter," according to Minnesota climatologist Pete Boulay.
"Precipitation is also increasing, with more heavy rain and more snow. There is further warming projected with continued increases in precipitation extremes. Expect variability as droughts have been part of Minnesota's climate and will continue to be so."
There are winners and losers with climate change, Boulay said.
"We've seen extended growing seasons so far, so there is a greater potential for perhaps using a longer maturing variety of corn for instance. However, with the lack of extreme cold, pests may be able to survive our winters better as well."
Fewer days in the deep freeze
Over the entire period of Minnesota's weather recording (back to January of 1895), average daily minimum, or low, temperatures have risen at more than twice the rate of average daily maximum, or high, temperatures, and the winter season (December through February) has warmed two-three times faster than summer (June through August), according to Minnesota Department of Natural Resources. Winter warming rates in particular have risen even more sharply in recent decades, and from 1970 through 2021, average daily winter low temperatures rose more than 15 times faster than average daily summer high temperatures.
The frequencies of -35 F readings in northern Minnesota and -25 F readings in the south have fallen by up to 90%.
Heavy rains
Long-term observation sites have seen dramatic increases in 1-inch rains, 3-inch rains, and the size of the heaviest rainfall of the year. Since 2000, Minnesota has seen a significant uptick in devastating, large-area extreme rainstorms as well. Rains that historically would have been in the 98th percentile annually have become more common. Climate projections indicate these big rains will continue increasing into the future.
More heat, more rain
Minnesota has warmed by 3 degrees Fahrenheit between 1895 and 2020, while annual precipitation increased by an average of 3.4 inches. Compared to 20th century averages, all but two years since 1970 have been warm, wet, or both, and each of the top-10 combined warmest and wettest years on record occurred between 1998 and 2020.
A South Dakota state climatology report from 2021 showed South Dakota has one of the highest rates of increased precipitation in the country. Most of that is coming in the spring and fall. Warmer winter temperatures and extreme minimum temperatures are warming.
South Dakota State Climatologist Laura Edwards recently explained that South Dakota is warming by about 2 degrees per century. There is a lot of back and forth of temperature extremes, but overall, there continues to be a warming trend.
"In general across the Plains where we see more of the corn and soybeans, wheat, you know, row crops, we see warming temperatures generally," Edwards said.
Looking further into the future, trends are showing that it will be the winters that will see the most increase in precipitation, a period that is typically drier.
"A lot of farmers have struggled, you know, wet springs and wet falls, for planting and harvest that really is a challenge," Edwards said. She's unsure of the impact that an increase in winter precipitation may have on farmers.
Edwards shared that growing zones are moving northward. The fastest rate of change is in the Midwest and central Plains, according to the Fourth National Climate Assessment . The climate assessment found no area in the lower 48 that saw a decrease in the hardiness zones.
So while climate change has negativity written all over it, Edwards is not yet alarmed by the changes she is seeing. There should be some benefit, at least in this region.
"There is a potential for a lot of upsides here, for South Dakota," Edwards said.
A warmer winter means certain plants can better tolerate these zones. Changes in temperature, rainfall, and frost-free days are leading to longer growing seasons in almost every state. But undesirable plants and insects also have a longer lifespan.
"A lot of our neighboring states have experience dealing with those challenges, so hopefully we can manage them as they come around," Edwards said.
While 2019 was the wettest year in recorded history in South Dakota , it was followed by dry weather and the entire Midwest felt the latest drought through 2022 and into 2023. That movement from one extreme to another is a feature that will likely continue, according to Edwards.
"We do see quite a bit of variability and I think the last couple decades have illustrated some rapid swings one way to another," Edwards said.
Edwards knows that farmers are thinking about these changes for long term planning and are implementing conservation-oriented strategies.
Edwards shares that severe weather is more uncertain and trends are not pointing to an increase or decrease. That's a point that's outlined in the Climate Assessment as it relates to the likelihood of more flooding. Yes, there are signs of more extreme precipitation, but many factors weigh in to flood factors.
We are at the epicenter of the changing climate.
Adnan Akyüz, North Dakota state climatologist and North Dakota State University faculty member
North Dakota state climatologist and North Dakota State University faculty member Adnan Akyüz explained how North Dakota is naturally a place of great variability. It is both very hot in the summer and very cold in the winter.
"North Dakota is the epitome of that," he said.
North Dakota has recorded the fifth hottest (hotter than Texas) and fifth coldest temperature in the country. But it's also getting hotter.
"Our annual average temperatures increased about 2.5 degrees Fahrenheit per century," Akyüz said. "When we compare ourselves to the other states we notice it is the seventh steepest trend in the United States, so it is kind of steep temperature increase and we can easily say that North Dakota, and I would say the same about the other neighboring states in the same area, that we are at the epicenter of the changing climate."
From an agriculture point of view, warmth can be good for corn and soybeans which need the heating degree days to flourish.
Akyüz said we've seen an increase from 100 years ago, from 85-day corn to 105-day corn. The more hospitable climate allows the corn to grow longer, which should mean higher yield. But it's a double-edged sword.
"Not only allows us to create these corn and high commodity products but also makes us vulnerable to extremes, in both the wet and dry side of the equation," Akyüz said.
He said farmers recognize that the change is there and they are looking for a higher maturity crop with higher yield.
"They are fully utilizing the potential," he said.
But there remains great risk in farming due to high variability. Yes, we may continue to see a longer growing seasons, but killing frosts still occur, floods still limit planting, drought still holds back growth. What works one season may not the next. Akyüz said that's where the annual forecasting comes into play, to provide a better outlook on what's to come each season.
Other agricultural impacts
According to the Fourth National Climate Assessment of the Northern Great Plains, climate change can also increase the threat of wildfires . Warmer temperatures and changing precipitation can affect when plants bloom and when pollinators , such as bees and butterflies, come out, according to the Environmental Protection Agency. If mismatches occur between when plants flower and when pollinators emerge, pollination could decrease.
"Overall, climate projections suggest that the number of heavy precipitation events (events with greater than 1 inch per day of rainfall) is projected to increase," according to an executive summary of the assessment. "Moving forward, the magnitude of year-to-year variability overshadows the small projected average decrease in streamflow. Changes in extreme events are likely to overwhelm average changes in both the eastern and western regions of the Northern Great Plains. Major flooding across the basin in 2011 was followed by severe drought in 2012, representing new and unprecedented variability that is likely to become more common in a warmer world."
While not everyone can agree on what is causing the change, at least two-thirds of farmers that Edwards works with have seen changes arising in the climate that adversely affect the way to produce the next crop or livestock.
"It's a difficult problem to address without a lot of people working on it together," Edwards said. As a one-woman climate department, she relies heavily on her colleagues in agronomy to understand how the climate impacts other facets of life. These are changes that will continue to require increased flexibility in managing resources.
"There's always more work we can do to improve our farm management and be more resilient to change the climate, either short term, season to season or when looking at decade to decade," Edwards said.
Technology of late has helped states like South Dakota better hone in on what the weather is like across the entire state with the expansion of the Mesonet . This weather tracking equipment has been pulling in wind speed and direction data, rainfall amounts, ground moisture and temperatures for over 30 years and has grown to 50 stations. That will be growing to 150 weather stations over the next two years, according to Edwards. It's data that should be helpful to farmers as it's expected there will be stations within 25 miles of all farmers in the state with up to the minute results. First and foremost, the data is meant to track and forecast flooding in the state to provide early warning to the public.