Special Olympics return to Northland after 3 years
The Area III Special Olympics event Saturday featured basketball and swimming events, which about 80 athletes from Proctor, Hibbing, Chisholm, Itasca and Bemidji participated in.
DULUTH — The Special Olympics are back after a three-year local hiatus due to the pandemic, and the athletes couldn't be happier to be back in the competition.
The first Area III event since 2020 was held Saturday at Lincoln Park Middle School, where about 80 athletes from Northern Minnesota participated in basketball and swimming events.
Pat Stojevitch, Area III Special Olympics director and event coordinator, said it was exciting to finally be back.
"I know all of the coaches and the teams are all excited that we're up and running," Stojevitch said. "I tried to do it last year, and being with the Special Olympics and the athletes that have health issues, we ended up canceling it in the last couple weeks before the event. They just thought it wasn't safe enough to do."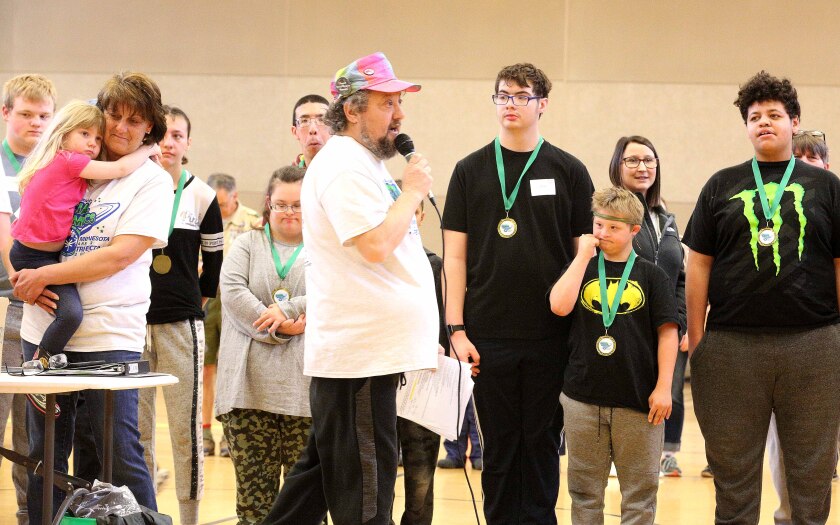 Typically, there would be about 150 athletes at the Area III event, but several teams still have not started practicing again, due to still looking for coaches or practice facilities. Proctor, Hibbing-Chisholm, Itasca and Bemidji participated Saturday. The Duluth Allstars were scheduled to compete, but weren't able because of illnesses on the team. Bemidji, which is part of Area II, competed with Area III because of a lack of other events in the area.
Scott Hurst, an athlete from Bemidji, has been playing basketball with the Special Olympics for 10 years.
"It feels awesome meeting new people, meeting new friends and having fun," Hurst said. "My favorite part is making new friends, having fun and enjoying the time we have."
Hurst credited great coaches as another aspect that makes the Special Olympics so enjoyable.
Stojevitch, who has been organizing the event for 32 years, said the competitions are fun because the events vary based on the athlete's skills. For example, there are both full- and half-court basketball games, plus skills-based events for people who can't participate in a full game. For swimming, athletes can participate in race lengths between 15 and 200 meters.
"These athletes are a lot more than what you actually think it is," Stojevitch said. "I would hate to go up against and compete against some of these athletes. They're tremendous. We've actually had athletes from Area III go down to the World Games and compete several years ago, and it's great to see that."
The Duluth event was a qualifier for the State Summer Games, which will be held in June in Edina and Stillwater. From the State Games, athletes have the opportunity to qualify for Nationals and Worlds. In 2026, Minnesota will host the National Special Olympics.
Elijah Teske from Itasca swam in both the 100-meter freestyle and the backstroke races Saturday.
"My favorite thing is being part of having teammates, competing, and just meeting new friends every time you go," Teske said. "The main idea is to have fun."
Teske enjoys swimming a lot in his free time, and has been participating in the Special Olympics for more years than he can remember.
"I've just been swimming my whole life," Teske said.
Richard Martin from Itasca also has been swimming for a long time, and said swimming in the 50-meter race was "a lot of fun."
The Area III event is fully funded by profits from the Haunted Shack, which Stojevich has operated for 29 years. The Haunted Shack in Carlton was able to stay operational throughout COVID-19, raising money for the Special Olympics and taking donations for Chum and the Salvation Army Northland Coat Drive.
"After paying for this entire event, which costs have tripled compared to three years ago, I will still be turning over a large sum to each team that they can do with as they wish," Stojevitch said.
Despite $25,000 in event costs, participating teams still received a split of about $7,000, Stojevitch said.
"It brings me back every year just to see the smiles on their faces, to see the volunteers kicking in and helping out," Stojevitch said. "And it all comes back to the athletes — watching these athletes do something that people wouldn't think they'd be able to do. And it's tremendous, again, seeing the smiles, getting the hugs and the high fives from all these great athletes."