GIRLS GOLF: With fun at the forefront, Tatum Offerdahl wins Bemidji invite
Tatum Offerdahl used to live out on the golf course, feeling the pressure associated with performance. But now she's in it for the fun and "a nice balance is keeping me in love with it," she said.
We are part of The Trust Project.
BEMIDJI -- Golf wasn't fun anymore. So Tatum Offerdahl stepped away from the sport.
"I think I just fell out of love," said Offerdahl, now a senior on the Bemidji High School girls golf team. "I didn't have the desire to be out here and to want to play."
Offerdahl didn't play her junior season, but she returned to the team as a senior and is now leading the Lumberjacks. That was on full display at the Bemidji Town and Country Club on Wednesday, where she topped the individual leaderboard at the Bemidji Invitational.
"I was definitely itching this year to be back," Offerdahl said. "I really wanted to be out here."
A mended relationship with the game has blossomed from a more balanced lifestyle. Offerdahl used to live out on the course, feeling the pressure associated with performance. But now she's in it for the fun and "a nice balance is keeping me in love with it," she said.
But, as Wednesday proved, winning is a nice cherry on top.
Offerdahl shot a 9-over-par 81, which tied her with Annika Jyrkas of Fergus Falls atop a field of 39. Offerdahl won the tiebreaker over Jyrkas by shooting par on No. 6, the first handicap hole, to earn medalist honors.
"With her taking last year off because she wasn't having fun with it, to see her come back and have fun (is exciting)," BHS head coach Tina Offerdahl said. "And when you're successful, it just makes it more fun. I couldn't have asked for any better for her."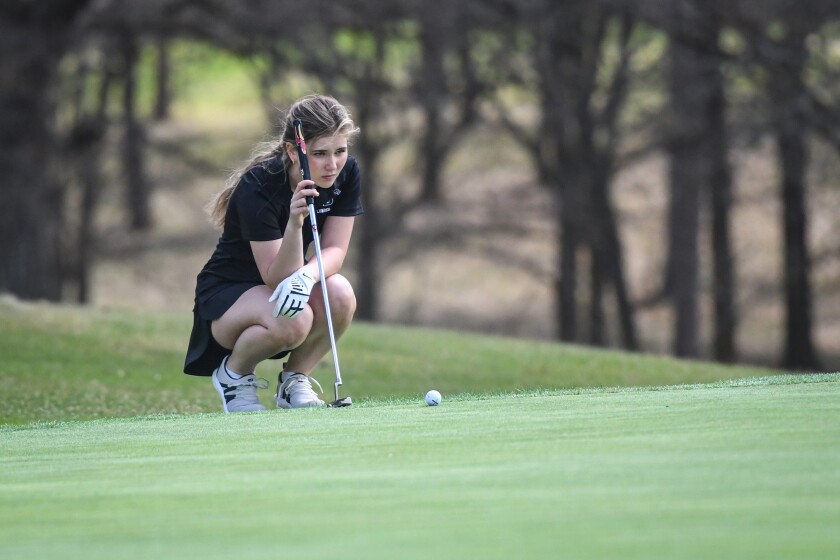 As Tatum Offerdahl ascended the leaderboard, perhaps an equally bright spot for the Jacks belonged to Brynn Meyer. The freshman fired a 91, placing 11th individually and ranking second among her teammates.
"For my freshmen, this is the first time they've played this course. And the back nine in particular," coach Offerdahl said. "If they see success, that's going to give them a little more drive to want to be out here, and then they're going to see more success."
Mya Huseby and Kate Hildenbrand rounded out Bemidji's scores, respectively carding a 103 and a 104 to place 25th and 26th. Margie Anderson (tie for 27th, 105) and Aurora Frank (tie for 31st, 108) closed the Lumberjacks' showings.
As a team, BHS tallied 379 strokes to place fourth of seven teams. Fergus Falls won the invite with a score of 340, while Staples-Motley (368) and East Grand Forks (378) also landed in the top three.
But nobody was better than Tatum Offerdahl, who said she didn't have her best stuff yet still found a way to post a winning score.
"My front nine, I struggled with my short game, which is rare for me because usually that's the good part of my game. But the back nine, I pulled through," she said of her day, which included one birdie on No. 10. "I had a few whoopsies. But (that happens) every round. That's what golf is. But it's exciting to be out here finally."
Tatum Offerdahl's results are still secondary to the experience. Even if they go hand-in-hand sometimes, fun remains her primary mission.
"Just have fun," she said of her goal for the rest of the season. "In the past, it's been a struggle because it's been so stressful. … I just want to be able to go out later in life and enjoy the sport, like when I'm 80 years old."
Bemidji will close out a busy week with an invite hosted by Rocori, which starts at 9 a.m. Friday, May 13, at Rich Spring Golf Club in Cold Spring.
1-Fergus Falls 340; 2-Staples-Motley 368; 3-East Grand Forks 378; 4-Bemidji 379; 5-Roseau 393; 6-Crookston 394; 7-Thief River Falls 447.