BOYS HOCKEY: Jacks' late comeback thwarted as EGF hangs on for tight win
The Bemidji High School boys hockey team was awfully close to tying the game up on Saturday against East Grand Forks at the Bemidji Community Arena.
We are part of The Trust Project.
BEMIDJI -- The Bemidji High School boys hockey team was awfully close to tying the game up on Saturday against East Grand Forks at the Bemidji Community Arena.
After two periods ultimately controlled by the visiting Green Wave, the Lumberjacks trailed 3-0 entering the third period. But momentum started to build after Nick Yavarow's power-play goal at 1:55, then Hunter Olson scored at 3:52. Moments later, a call was made that would change the complexion of the contest.
About a minute after Olson's goal, Wyatt Mattfield appeared to have scored an equalizer for the Jacks, but the apparent tying goal was waved off by officials on the ice due to a dislodged net. Bemidji's coaching staff vociferously begged to differ, but the goal didn't count, and EGF escaped with a controversial 4-2 win after adding a late empty-netter.
"We were watching the video (after the game), and the puck was in before the net came off," said BHS head coach Pete Stahnke of Mattfield's attempt. "That's really discouraging. And the new rule says that even if it's on its way in and then they knock the net off, it's supposed to be a good goal. … But we didn't play well in the first two periods, so we left ourselves kind of hanging."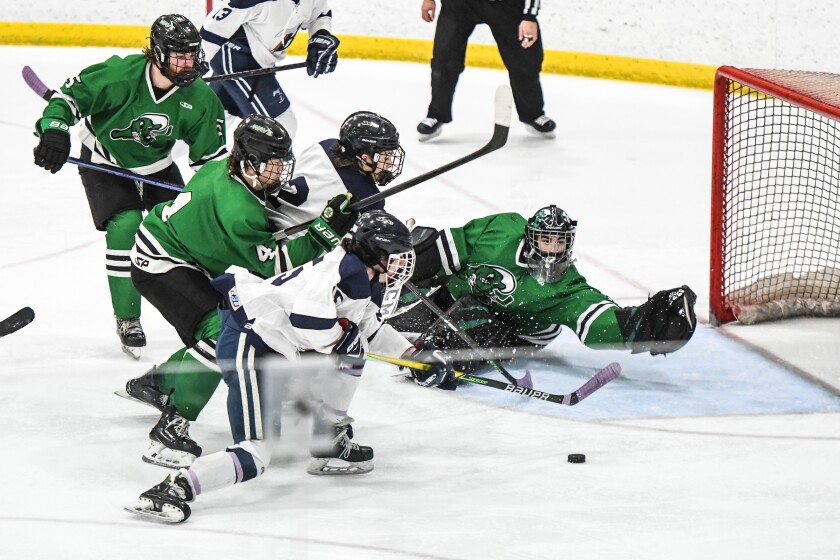 The loss snapped Bemidji's seven-game winning streak, which began on Dec. 27.
Before the consequential judgment call, East Grand Forks (11-6) assumed command of the matchup with three goals in the first period. Chase Moe lit the lamp at 8:19 to commence the scoring, then Grady Magner scored at 9:33 for a 2-0 lead. Brock Schultz added the third at 15:32, and it took the Lumberjacks (10-7) a while to answer back.
But when BHS did respond in the third period, it did so in a big way. Yavarow's 5-on-4 score awakened the robust crowd at the BCA, then Olson's even-strength goal made it a game. Mattfield's shot looked to be the one to tie, but it was not to be. EGF's Jace Van Eps added an empty-net goal at 16:23 to seal the contest in favor of the Green Wave.
"I was proud of them," Stahnke said of his squad. "They worked hard, and they didn't give up. A lot of teams will fold after that bad start, and they just kept chugging along. And I thought we had a good third period."
Despite the end of Bemidji's lengthy win streak, Stahnke was encouraged to see more of the stellar defensive play that keyed the Lumberjacks' prolific stretch. If BHS can keep that up, it should be well positioned to start up a new streak very soon.
"They're just all buying in," Stahnke said. "They play as a team, they care about each other. I think the big thing too – defensively, we've strengthened that up, worked on that quite hard in practice. Creating some of the opportunities out of the defensive end, I think we're a good transition team, and we're getting pucks to the net."
Alex Schaefer stopped 22 shots in net for Bemidji, while East Grand Forks' Chase Mero collected 23 saves.
The Jacks return to the ice against Cloquet/Esko/Carlton at 7 p.m. on Friday, Jan. 27, in Cloquet.
East Grand Forks 4, Bemidji 2
EGF 3 0 1 -- 4
BHS 0 0 2 -- 2
First period -- 1, EGF GOAL, Chas. Moe (Fore), 8:19; 2, EGF GOAL, Magner (unassisted), 9:33; 3, EGF GOAL, Schultz (Jamieson), 15:32.
Second period -- No scoring.
Third period -- 4, BHS GOAL, Yavarow (Knutson, Mannausau), 1:55, PP; 5, BHS GOAL, Olson (M. Fankhanel), 3:52 1st goal; 6, EGF GOAL, Van Eps (unassisted), 16:23, EN.
Saves -- Schaefer (BHS) 22; Mero (EGF) 23.