BOYS BASKETBALL: Jacks shower Eric 'Big E' Nelson with love at packed BHS Gym
"It makes me feel so good," said Nelson. "I'm so grateful to have the community support like it is. Bemidji is the First City on the Mississippi, and we're No. 1."
BEMIDJI — Sometimes, one name says more than two ever could.
That's definitely the case for Eric "Big E" Nelson, the beloved custodian at Bemidji High School. That nickname – affectionately bestowed upon him by the Bemidji community – was present everywhere you turned on Thursday night at the BHS Gymnasium.
Big E wristbands were sold in support of Nelson, who has been fighting renal cell carcinoma – a form of kidney cancer – for the past few months.
The Bemidji boys basketball team formed an "E" during the national anthem. And the man himself made an appearance and was showered with love by a packed home crowd.
"It makes me feel so good," said Nelson, who received a standing ovation while processing through a tunnel of Bemidji players that spanned the length of the court. "I'm so grateful to have the community support like it is. Bemidji is the First City on the Mississippi, and we're No. 1."
Alongside Paul Bunyan's hometown, Nelson praised the broader community for its generous spirit.
Beloved Lumberjack Eric (Big E) Nelson makes his triumphant return to a packed house at the BHS Gymnasium. Nelson has been fighting cancer and is back tonight to be honored at the Bemidji boys basketball game against Esko. pic.twitter.com/AMgp8B1XVO

— Christian Babcock (@CB_Journalist) February 17, 2023
"The surrounding communities – Redby, Red Lake – I have to acknowledge them too, because I was raised on the Red Lake Nation, and I love the people up there, too," Nelson added. "Thank you (to everyone) for going above and beyond. My coworkers and all the students, the town of Bemidji: thank you, thank you very much. The community is awesome."
After the pregame ceremony at center court, Nelson moved to the baseline, where he was greeted by a throng of friends and coworkers. Dedicating Thursday's game to Nelson gave Bemidji some extra juice against Esko, and that was visible before the contest and out on the floor.
"It's amazing to see that Big E can come out tonight," senior guard Ethan Biehn said. "It's so inspirational. I love the guy so much. I mean, I was coming to tears, everyone was coming to tears. It was just so inspiring that he has the strength to come out here and support us."
"It was a wonderful night to honor Big E," said BHS head coach Steve Thompson, who has known Nelson for over 20 years. "The kids really appreciated having him here, and we were excited for that moment. He's been out of the building for a while, and the boys miss him. So he wanted to make a special effort to be here, and we were excited to have him.
"He's a very special person, and the boys have a lot of admiration for him. They really wanted to do it for Big E tonight."
The Lumberjacks certainly got close against a talented Esko team. Though Bemidji held the lead in the middle of the second half, Esko's closing run regained control en route to a slim 70-66 victory.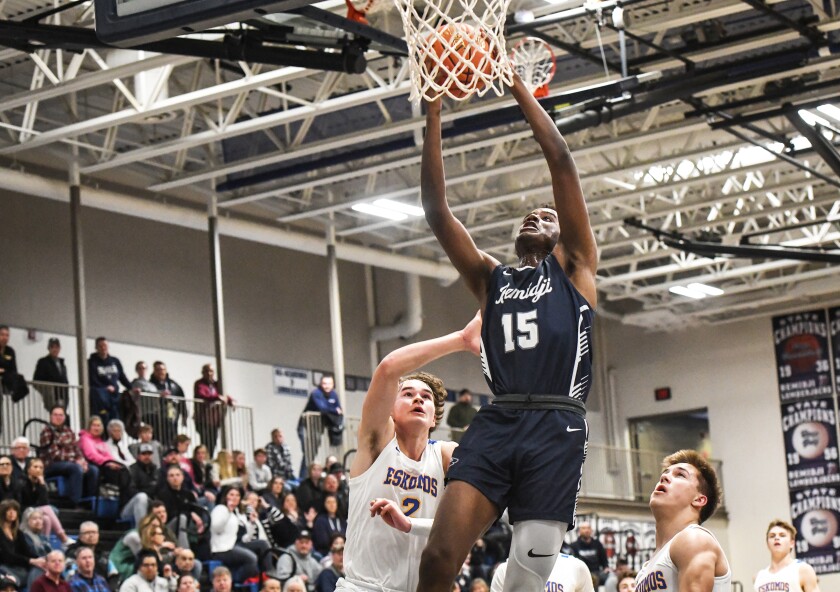 The Jacks (13-9) led 61-57 after Jaxon Boschee's 3-pointer and Biehn's layup, which capped their comeback from a 41-33 halftime deficit. Matt Matheney hit back-to-back threes to bring BHS within striking distance, and Isaac Severts dished a sweet fast-break assist to set Biehn up.
Esko (17-3) edged its way back, eventually taking a 66-64 lead. The Lumberjacks answered with Quinten Yeung's put-back, tying the matchup 66-66 with just over three minutes remaining. But Esko's swarming pressure defense prevented the Jacks from reclaiming the advantage – or even finding the basket again – down the stretch.
"Since Big E was here, we were so driven to prove to him how much we love him, how much we support him and how much we're there for him," Biehn said. "That extra drive makes you want to compete and compete and compete. And as you saw today, it was just a hard-fought game. We did it for Big E, and we're going to keep on doing it for the rest of the season for Big E."
Ultimately, Thursday night's meeting was a celebration – regardless of what transpired on the hardwood.
"Even though we didn't pull out a win, I think it's more memorable that we got to have that time with him," Biehn added.
"This was a night to honor him," Thompson said. "The turnout tonight was amazing. The community support was amazing. We were just blessed to have him here with us tonight. The love filled the gym tonight."
Bemidji returns to action against Pequot Lakes at 5:45 p.m. on Tuesday, Feb. 21, in Pequot Lakes.
Esko 70, Bemidji 66
ESK 41 29 — 70
BHS 33 33 — 66
ESKO — Perich 15, Spindler 15, Haugen 13, Berger 12, Male 8, Zezulka 7.
BEMIDJI – Biehn 15, Boschee 14, Severts 14, Matheney 9, Yeung 6, Luksik 5, Lish 3.