SOFTBALL: Beavers walk off SMSU as Damerow spins 9-inning shutout
Kyla Damerow saddled Southwest Minnesota State with nine innings of zeroes, keeping the Mustangs firmly in the paddock. And in the bottom of the ninth, the Beavers finally broke through offensively.
BEMIDJI – Kyla Damerow was ready to ride until she couldn't any more.
The Bemidji State softball team's ace pitcher saddled Southwest Minnesota State with zeroes inning after inning on Saturday at the BSU softball field, keeping the Mustangs firmly in the paddock into extras. And in the bottom of the ninth, the Beavers finally broke through offensively.
After Elaina Christiansen led off with a double, Mariah Stevenson singled her home, giving BSU a 1-0 triumph in the first game of a doubleheader.
Bemidji State dropped the second contest 3-1, but the initial victory could prove to be quite significant in establishing the pecking order for the NSIC playoffs.
"It's awesome (to get the win), because it allows us to be a little bit more loose and have some fun out there knowing that we don't have to press," Damerow said. "There's still some wiggle room to make the playoffs."
The Beavers (22-24, 11-13 NSIC), who entered the day ninth in the conference with SMSU and Concordia-St. Paul hot on their tails, will take any distance they can get. Beating SMSU took a potential sweep away from the Mustangs (17-30, 13-17 NSIC), ensuring they would be behind BSU in the standings at the conclusion of Saturday's slate.
"That was huge, a walk-off win is always really nice," BSU head coach Jordan Petersen said. "(We) played extremely well defensively. Obviously, you want to score more runs than two runs all day. But being able to come off that (win) was really good. In game two, we just needed to make a few more outs. We pitched well all day, and that's all you can ask for from the pitchers."
Both squads' hurlers were aided by a heavy wind blowing in from center field, suppressing fly balls and keeping extra-base hits to a minimum.
"It definitely is an advantage and a disadvantage," Damerow said. "(Offensively), any ball that gets up just kind of hangs up there for a while. But it's great for pitching, because then you just kind of throw a little bit higher and they pop it up, so it gives your defense time to get underneath it."
"The wind was pretty hard today," Christiansen said. "So just thinking line drive, ground ball, try to make them have to make a play on us. Because with it being in the air, they only need to catch it. Whereas if you put it on the ground, they have to field it and throw it. Just make them make a play, and if they can't, then it's good for us."
Bemidji State struggled to score in both matchups, and it cost them in the second one. SMSU scored once in the second, fifth and seventh innings, while the Beavers plated their lone run in the sixth. They stranded a runner on third in the sixth as well, ending their best chance to put up a crooked number.
"For our seniors, it's kind of that last hurrah," Christiansen said. "So it felt good to win the first one, and we just wish that we could have pushed through for the second one."
BSU celebrated Senior Day on Saturday, honoring players like Christiansen and Damerow who are fighting to ensure this weekend won't be the last time they suit up for Bemidji State.
To make the NSIC playoffs and extend their season, the Beavers need a combination of two BSU wins and losses by SMSU to guarantee a spot. Bemidji State can eliminate any drama by sweeping Sioux Falls on the final day of the regular season. The Beavers have not reached the postseason since 2017.
"It's super important, because it's about changing the culture of the program and always leaving it better than you found it," Damerow said. "Honestly, making the playoffs this year would be huge, because it's been a while for us. For all the seniors, this is why we do it."
BSU faces the Cougars for another pivotal doubleheader starting at noon on Sunday, April 30, back at the BSU field.
Bemidji State 1, Southwest Minnesota State 0 (F/9)
SMSU 000 000 000 – 0-3-0
BSU 000 000 001 – 1-7-2
WP: Damerow (CG, 9 IP, 3 H, 0 R, 0 ER, 0 BB, 3 K)
LP: Bloemendaal (CG, 8.1 IP, 7 H, 1 R, 1 ER, 0 BB, 5 K)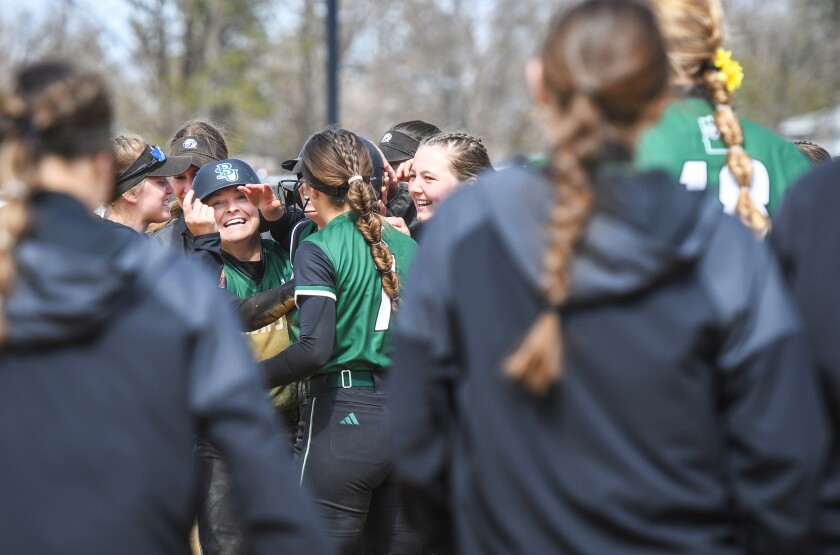 Southwest Minnesota State 3, Bemidji State 1
SMSU 010 010 1 – 3-9-1
BSU 000 001 0 – 1-7-2
WP: Miller (CG, 7 IP, 7 H, 1 R, 0 ER, 1 BB, 2 K)
LP: Dolan (CG, 7 IP, 9 H, 3 R, 1 ER, 0 BB, 1 K)