SOFTBALL: Beavers walk off Golden Bears to sweep doubleheader
Late-inning heroics lifted the Bemidji State softball team to a doubleheader sweep against Concordia-St. Paul.
BEMIDJI – Concordia-St. Paul's late-inning rally set up extra-inning heroics for the Bemidji State softball team.
The Golden Bears strung a pair of runs together in the top of the seventh inning in the second game of Tuesday's doubleheader. Two more CSP runs in the top of the ninth set the stage for the Beavers' walk-off win.
Trailing 10-8, Molly Houts cut the deficit in half with an RBI single. Emmarie Yeager tied the game with another single before Elaina Christiansen sent the BSU (16-18, 5-11 NSIC) faithful home happy at Chet Anderson Stadium with a bases-loaded, two-out single.
Bemidji State's 11-10 win in nine innings followed a 10-6 victory to start the afternoon. Yeager and Morgan Benedict homered for the Beavers while Kyle Damerow tossed a complete game in the circle.
CSP (19-22, 5-7 NSIC) took a 3-0 lead in the first two innings before BSU scored six times in the bottom of the second. RBI singles from Alexa Christenson and Aimee Christenson and a bases-loaded double from Molly Houts did most of the damage. Benedict homered in the third inning, then Yeager went yard with a three-run slam in the fifth.
Damerow (7-10) gave up four earned runs on 11 hits with three strikeouts. She picked up the win in the back half of the doubleheader, tossing the final 3.1 innings. She allowed four earned runs on four hits.
Houts' two-run triple helped Bemidji State take a 5-0 lead through two innings of the second game. Yeager homered again in the third before Aimee Christenson doubled in a run to make it 7-2.
Concordia's comeback started with Danni Sharum's solo home run in the top of the fifth inning. Sydney Pelzer and Avery Johnson added long balls in the top of the sixth, and then both drove in runs with RBI doubles in the top of the seventh inning to tie the game.
Stella Dolan started on the rubber for BSU. She threw 5.2 innings, giving up six earned runs on eight hits with six strikeouts. Bryanna Olson (11-13) suffered the loss for CSP. She allowed four earned runs, six hits and six walks in 5.2 innings.
The Beavers host U-Mary in a doubleheader at 1 p.m. on Tuesday, April 18, at the Chet.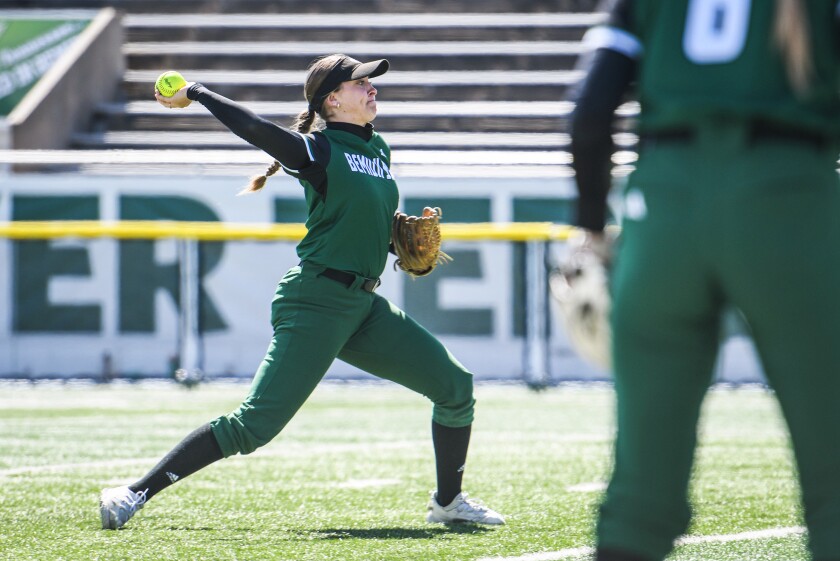 Bemidji State 10, Concordia-St. Paul
CSP 122 000 1 – 6-11-1
BSU 061 030 X – 10-10-2
WP: Damerow (CG, 7 IP, 11 H, 6 R, 4 ER, 0 BB, 3 K)
LP: Olson (1.1 IP, 4 H, 6 R, 6 ER, 3 BB, 0 K)
Bemidji State 11, Concordia St. Paul 10 (F/9)
CSP 002 022 202 – 10-15-3
BSU 232 010 003 – 11-13-1
WP: Damerow (7 H, 4 R, 4 ER, 0 BB, 0 K)
LP: Olson (5.2 IP, 6 H, 4 R, 4 ER, 3 BB, 4 K)