FRIEZ COLUMN: A Bemidji State football fan's guide to this week's rooting interests
How can the Beavers maximize their chance at the highest possible seed and a favorable postseason path? And what about winning the NSIC championship? Let's map it all out.
We are part of The Trust Project.
When the football season begins, the field is so broad, so open, so full of possibilities.
But not anymore.
With one week left in the regular season, NCAA Tournament hopefuls all across the country are vying to make their closing arguments to the selection committee.
For the Bemidji State football team, the formula is pretty simple: win, and they're in.
But how can the Beavers maximize their chance at the highest possible seed and a favorable postseason path? And what about winning the NSIC championship?
Let's map it all out: Here is a BSU fan's ultimate guide to Saturday's rooting interests.
Bemidji State beats U-Mary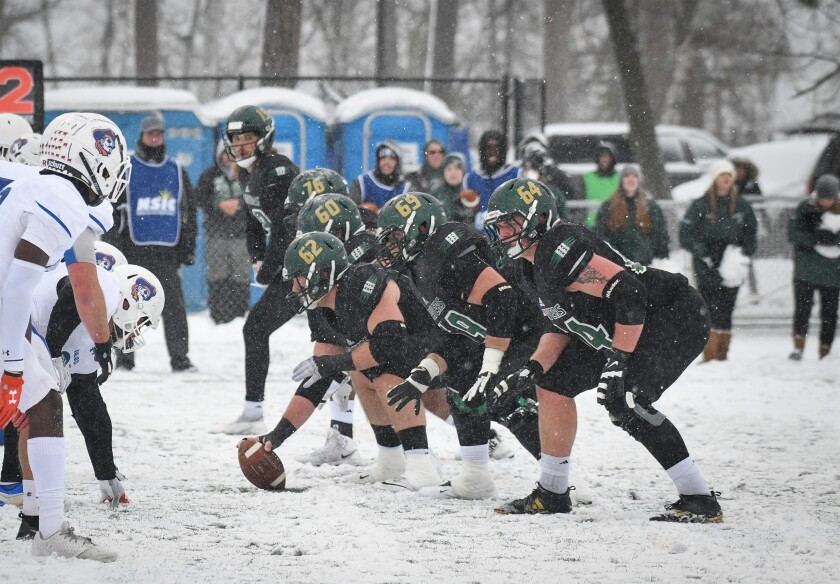 This is a pretty obvious first step. The Beavers (8-2) likely have to beat U-Mary (2-8) in order to make the NCAA Tournament field, and a victory of course increases their odds at climbing up in the Super Region Four rankings. (Not to mention, a 30-point win looks much better than a one-score win.)
But after that, plenty of moving parts have yet to settle.
Bemidji State is currently No. 4 in the Super Region Four rankings. The rest of the field is as follows: No. 1 Angelo State (10-0), No. 2 Colorado School of Mines (8-2), No. 3 Minnesota State (8-2), No. 5 Winona State (8-2), No. 6 Wayne State (8-2), No. 7 Sioux Falls (7-3), No. 8 Colorado State Pueblo (7-3), No. 9 Minnesota Duluth (7-3) and No. 10 Augustana (6-4).
With a little bit of luck, BSU could jump another spot or two when the NCAA Tournament field is revealed at 4 p.m. on Sunday, Nov. 13, at www.ncaa.com.
Pick your poison: Minnesota State or Winona State?
The big-ticket game of the week is between Minnesota State and Winona State. Both teams are 8-2 and respectively rank No. 3 and No. 5 in the super region, with BSU right in between.
Admittedly, this is a little bit of a double-edged sword. Could a WSU win knock Mankato below Bemidji State, or would it be too impressive and send the Warriors above the Beavers? Conversely, would a Mavericks win eliminate any chance of BSU being the top-ranked NSIC team?
My best guess, based on this week's regional rankings, is that Bemidji State will land right below the winner and somewhere above the loser. But because of head-to-head results ( MSU beat BSU 37-34 in Week 1, while BSU beat WSU 34-24 in Week 3), I think it's a safer bet to root for the Mavericks in this one.
Here's why: Winona State's resume already features wins over regionally-ranked Wayne State, Sioux Falls and Augustana, and another victory over Minnesota State likely puts them above the Beavers; but I also fear that a close Mankato loss won't deter the selection committee from keeping them ranked ahead of Bemidji State by virtue of their head-to-head victory. It's unlikely, but I wouldn't be interested in leaving it up to chance.
If the Mavericks were to win, I don't see a three-loss Warriors team supplanting the Beavers in any way.
But, hey, if you're feeling lucky, forget everything I said, root for Winona State and hope BSU can land that No. 3 seed. After all, facing Angelo State -- the No. 2 team in the country -- in the second round isn't exactly a favorable matchup.
The good news for Bemidji State is that one of those teams will have three losses by the end of the day.
The rest of the NSIC South contenders face below-average competition, and none are particularly likely to fall victim to an upset. But still, root for Minnesota State Moorhead to beat Wayne State, Upper Iowa to beat Sioux Falls, and Southwest Minnesota State to beat Augustana.
Minnesota Duluth also appeared in this week's rankings at No. 9, but it's in the Beavers' best interest that the Bulldogs win against a respectable Northern State team. The quality of Bemidji State's head-to-head victory over UMD improves the longer that Minnesota Duluth is in the super region conversation.
Now, if you're thinking about an NSIC championship for BSU, here's how that shakes out.
If the Beavers beat U-Mary, they win the NSIC North Division championship outright and a share of the NSIC overall championship. Whoever else wins between Minnesota State, Winona State and Wayne State would share the overall crown with Bemidji State, with the title then ending up as either a two- or three-way tie.
BSU can also lose and still win the North Division title outright with a Minnesota Duluth loss.
The rest of Super Region Four
Only three non-NSIC schools cracked the latest Super Region Four rankings, but they're some of the heavyweights in Division II.
Top-ranked and undefeated Angelo State won't be budging from that top spot. They play 6-4 Midwestern State on Saturday and will receive their first-round bye on Sunday.
Second-ranked Colorado Mines, the team that beat Bemidji State in last year's playoffs, is one of five 8-2 teams in the super region. The Orediggers are ranked No. 11 in the country and play 0-9 Fort Lewis this weekend, so don't put too many eggs in this basket, either.
Eighth-ranked Colorado State Pueblo ends the regular season against Black Hills State in a matchup of 7-3 teams. If the Beavers don't beat U-Mary, it'll be a very stressful selection show, but a loss from the region's eighth-ranked team would at least add an ounce of additional breathing room, so root for Black Hills State here.