BASEBALL: Bemidji State's Will Lavin to pitch for Rochester Honkers in Northwoods League
The Bemidji State baseball team has its first Northwoods League baseball player since 2014.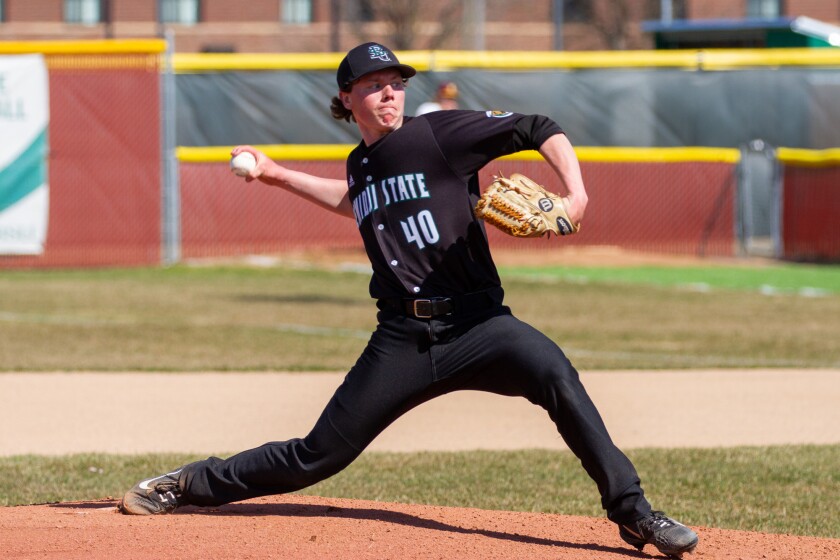 BEMIDJI – Bemidji State junior pitcher Will Lavin has agreed to pitch for the Rochester Honkers of the Northwoods League during the Summer of 2023.
Lavin is the first BSU baseball player to compete in one of the top amateur development leagues in the nation since Joey Hanowski played for the Willmar Stingers in 2014.
The Hastings, Minn., native has made six starts and is 1-4 halfway through the Beavers' 2023 season. He leads the BSU pitching staff with an ERA of 5.16 in 29.2 innings.
The right-hander leads the team and is tied for 14th in the Northern Sun Intercollegiate Conference with 36 strikeouts. His 13 strikeouts looking are tied for the sixth most in the league. Lavin also leads the team with a 1.79 WHIP holds opponents to a .286 batting average and has hurled the lone complete game for the Beavers.
In his Bemidji State Baseball career, Lavin has pitched 115 innings and is 3-21 with a career ERA of 7.59 and 131 strikeouts, fifth most in program history. He is 19 strikeouts away from reaching 150 in his career, which has only been accomplished by one other student-athlete – Phil Bray from 2010-13 – at BSU.
Playing its 29th season of summer collegiate baseball, the Northwoods League is the world's largest summer collegiate baseball league with 24 teams, featuring the top college players in the nation and North America. All players in the league must have NCAA eligibility remaining in order to participate. Each team operates similarly to a professional minor league team, allowing players to play under the same conditions using wooden bats, minor league specification baseballs, experiencing overnight road trips and playing nightly before fans in a stadium. More than 310 NWL Alumni have advanced to Major League Baseball.
The Honkers are set for a 68-game regular season in 2023 beginning May 29 and running through August 12. They are managed by second-year head coach Andrew Urbistondo while Mark Reardanz serves as the team's pitching coach.
Fans can watch Lavin and the Honkers for free on Mobile or Desktop or download the Northwoods League app on your AppleTV, Roku, AndroidTV or Amazon Firestick, which is also free.