WOMEN'S HOCKEY: Beavers snap 11-game skid with dominant win over UST
Defenseman Khloe Lund recorded four points, including her first career goal. Goaltender Abbie Thompson saved 30 shots for her first WCHA win, and BSU took down the Tommies 4-1.
BEMIDJI -- The Bemidji State women's hockey team was desperate for a victory on Saturday at the Sanford Center.
Losers of their last 11 games – all in WCHA play – the Beavers were hungry for a win against St. Thomas. This time, their appetite for victory was fully satisfied.
Defenseman Khloe Lund recorded four points, goaltender Abbie Thompson saved 30 shots for her first WCHA win, and BSU took down the Tommies 4-1.
"It's huge," BSU head coach Jim Scanlan said of the victory. "Every time you win, I don't care who you're playing, it's special. Especially in this league, it's a mental and a physical battle every time you step out on the ice. There's no question the losses affect you, and I give the group credit. They've been great. They came out today ready to play. We worked hard. Got the start we needed, and that's a tribute to the team to stay with it and stay together."
Bemidji State (5-24-1, 2-22-0 WCHA) used special teams to get on the board. Reece Hunt scored on the power play at 12:50 in the first period off assists from Lund and Adriana Van De Leest. Then, in the second frame, Lund doubled it up with the first goal of her three-year BSU career at 2:48.
"Honestly, (it felt) very good," Lund said of the watershed score. "I don't know, I can't really put it into words. Once it goes in, you're kind of shocked, but it hits you later, I guess. It was kind of a crazy game, I feel like. It was just good to get a win with the team and see how excited the girls were and everything."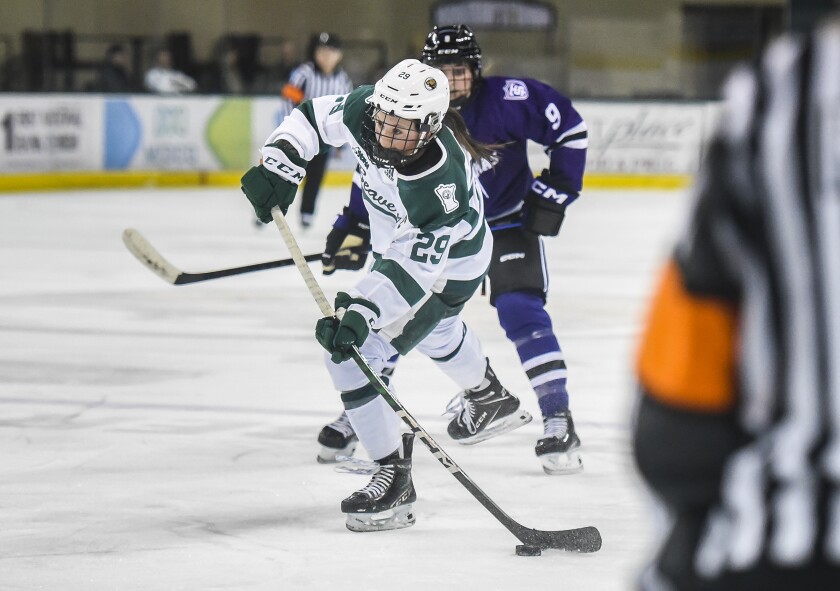 St. Thomas (8-21-1, 3-20-1 WCHA) responded with Brieja Parent's goal at 5:58 in the second, but Taylor Nelson put the Beavers back up by two with her score at 13:45.
After that, UST began to apply pressure, especially during a 5-on-3 late in the second period. But Thompson kept the Tommies out of the net, and Claire Vekich was the next player to score. Vekich put Bemidji State up 4-1 at the 8:47 mark of the third off a helper from Lund.
"It was really nice to have that lead," Thompson said. "Just made me feel better. I looked at the clock when it was like four minutes left, and I was like, 'OK, unless they score a goal a minute, I think we're good.'"
Scanlan commended BSU's unity after the game, noting how the group never broke ranks despite its long run of barren results. He singled out the selfless efforts of Shelby Breiland, a sophomore forward who played out of position to assist the Beavers' defensive corps over the weekend.
"(She) hadn't played defense since her junior year in high school," Scanlan said. "And to play at this level in the WCHA, she did a really nice job for us for the last two games."
Back in the crease, after playing in six games this season, Thompson appears to have settled in. She's improved each week in practice, which has given her proof of concept to put forth performances like Saturday's.
"It's definitely been more of a groove, I would say," Thompson said. "I've gotten used to the speed now, used to the shots. So that has been huge. I still get nervous before games like anybody does, but I definitely feel more comfortable, more confident, more like myself."
St. Thomas outshot Bemidji State 31-23 in the contest, but Thompson was up to the task with her career-high 30 saves. Saskia Maurer stopped 19 for the Tommies.
The Beavers return to the road to face Minnesota State on Friday and Saturday, Feb. 10-11, in Mankato.
Bemidji State 4, St. Thomas 1
UST 0 1 0 -- 1
BSU 1 2 1 -- 4
First period -- 1, BSU GOAL, Hunt (Lund, Van De Leest), 12:50, PP.
Second period -- 2, BSU GOAL, Lund (Anderson, Stoskopf), 2:48; 3, UST GOAL, Parent (Bianchi), 5:58; 4, BSU GOAL, Nelson (Hendrickson, Lund), 13:45.
Third period -- 5, BSU GOAL, Vekich (Lund), 8:47.
Saves -- Thompson (BSU) 30; Maurer (UST) 19.