MEN'S HOCKEY: BSU's Sholl earns All-CCHA Second Team bid
Mattias Sholl earned his second career CCHA yearly accolade with an All-CCHA Second Team selection.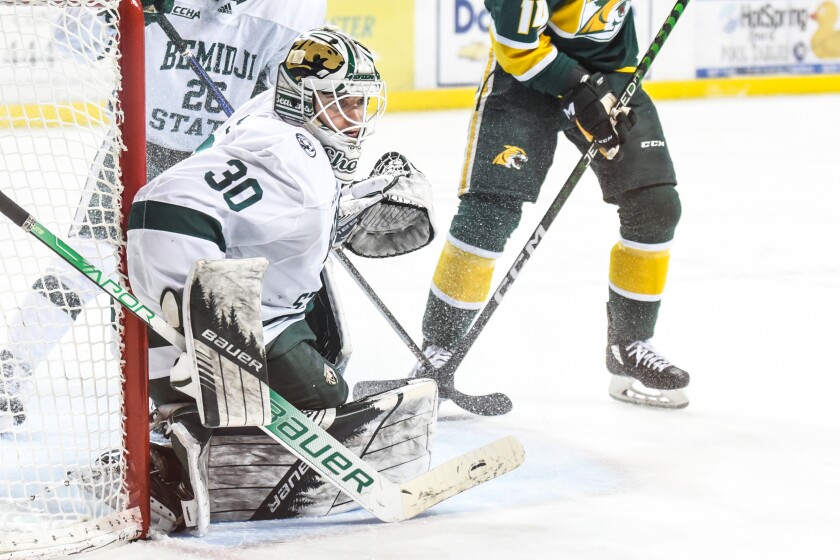 BEMIDJI – Bemidji State University Men's Hockey sophomore Mattias Sholl was voted to the 2022-23 All-Central Collegiate Hockey Association Second Team, announced by the league Tuesday morning. All year-end awards were voted on by the league's eight head coaches.
The Hermosa Beach, Calif., native earns his second career CCHA yearly accolade after earning CCHA All-Rookie Team accolades following his freshman season.
Sholl appeared in net in 24-of-26 conference games this season and posted a 10-10-3 record with a 2.21 goals against average and a .910 save percentage. He ranked third in the conference in goals-against average and tied for fourth in save percentage.
Sholl appeared in 30 games throughout the entire 2022-23 season and posted an 11-13-5 record with a .908 save percentage and 2.26 goals against average. He recorded his first career shutout during the season and surrendered two or fewer goals in 19 contests.
Sholl currently owns the ninth-best career save percentage at Bemidji State (.9059) and the seventh-best goals-against average (2.48).
Sholl was named the CCHA Goaltender of the Week twice during the regular season, the goaltender of the month for December and was on the Hockey Commissioners Association Mike Richter Award "Watch List."
He is joined by forwards Louis Boudon (Lake Superior State), Nathan Burke (Bowling Green), Andre Ghantous (Northern Michigan), defensemen Akito Hirose (Minnesota State) and Brett Thorne (Michigan Tech) as All-CCHA Second Team selections.
Sholl is the latest BSU men's hockey student-athlete to be named to the All-CCHA Second Team since Owen Sillinger was selected following the 2021-22 season.