MEN'S HOCKEY: Bob Peters' UND roots shaped his legacy at Bemidji State
Beginning with the 1966-67 season, Bob Peters moved to Bemidji to coach the Beaver hockey program – a mantle he'd maintain for 35 years – and the rest is history.
We are part of The Trust Project.
BEMIDJI – Bob Peters was molded by the University of North Dakota.
The Bemidji State men's hockey coaching legend tended goal for UND in the 1950s, commencing his collegiate coaching career with the then-Fighting Sioux as an assistant in 1961. He helmed the program as head coach from 1964-66, leading North Dakota to a third-place finish in the 1965 NCAA Tournament.
Beginning with the 1966-67 season, Peters moved to Bemidji to coach the Beaver hockey program – a mantle he'd maintain for 35 years – and the rest is history.
"Coach Peters was meant to be a coach," BSU head coach Tom Serratore said. "He was meant to be an educator. He was meant to be a teacher. He had the good fortune of going to North Dakota and getting a scholarship when he was 18, 19 years old from Fort Frances, Ontario. So he was very lucky in those days, and he would say that. He had doubts that he ever would have gotten an education."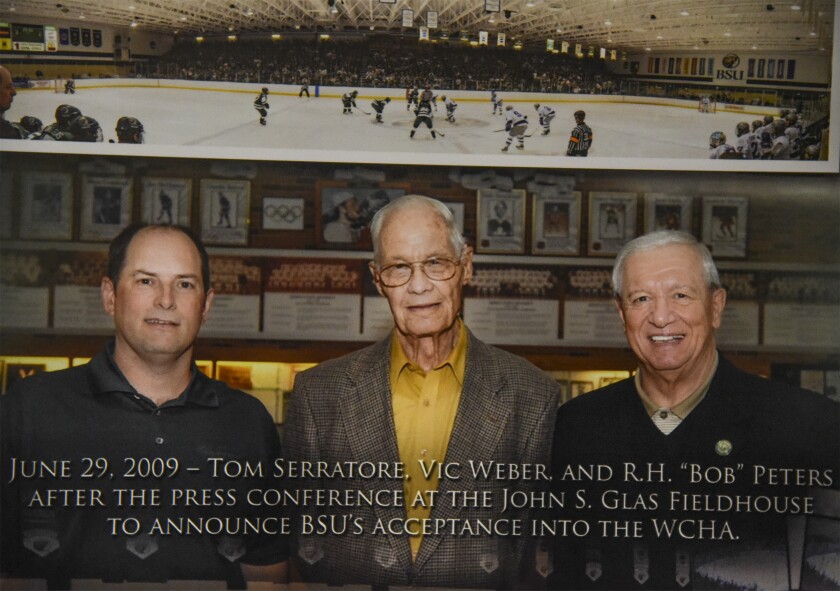 Peters used that schooling to build up a legendary program at Bemidji State, one that won 13 national championships under his watch and established a legacy that continues to the present day.
"That was grassroots, back in the 50s, of college hockey," said Serratore, who played for Peters from 1984-87. "There weren't a lot of teams at that particular time. But that place shaped him, absolutely. I mean, Bemidji State shaped me. Wherever you go to college shapes you – all of us, doesn't matter if you played a sport or not. That's where you grow up and you mature and there's adversity, all those things. That's how I look at it."
By the time Peters brought his UND pedigree down U.S. Highway 2 to the First City on the Mississippi, he had built up a wealth of expertise that would shape the foundation of Beaver hockey. But much of what he contributed to Bemidji State was intrinsic.
"He brought his knowledge," Serratore said. "Coach brought his knowledge and his passion for the game. But that would have been his knowledge or passion, pride wherever he went."
There are other reasons the BSU-UND rivalry runs as deeply as it does. Many Grand Forks, N.D., residents have summer cabins in the Bemidji area, and the nearness of the two locales leads to natural cross-pollination. The two schools also faced each other regularly in the WCHA, and they've continued that tradition despite their migration to the CCHA and NCHC.
"I grew up loving (UND)," said Bemidji State forward Kirklan Irey, who hails from Bismarck, N.D. "But ever since I committed to Bemidji, l know the rivalry. They have played each other every year, and I just can't wait to see it grow."
During his youth, Irey attended contests at Ralph Engelstad Arena in Grand Forks, which will host Saturday's finale to the home-and-home series. Proximity enables many fans to attend both matchups, and the Sanford Center is often invaded by a sea of UND supporters.
"I think it's just more of the geography (that leads to the rivalry)," Serratore said. "The biggest thing with the North Dakota-Bemidji games or the rivalry, whatever you want to call it, is an hour and 45 minutes (of separation)."
A number of Kelly green-adorned attendees should once again populate Sanford Center for the series' first game at 7:37 p.m. on Friday, Nov. 25. The two-game set concludes at 6:07 p.m. on Saturday, Nov. 26, in Grand Forks.
It's the first meeting between the two programs since Peters' death in December 2021.