MEN'S HOCKEY: After Roed's goal, No. 13 MSU scores 4 straight to down Beavers
"You've got to understand that it's going to be hard, it's not going to be fun," BSU head coach Tom Serratore said. "You'd better bring the hard hat, the Wells Lamont gloves, the steel-toed boots."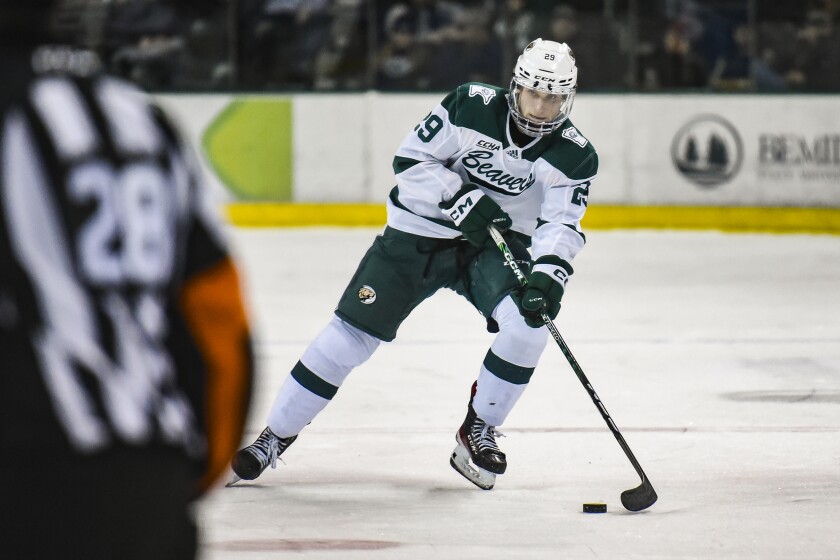 BEMIDJI – The Bemidji State men's hockey team isn't the same side that went to Mankato in December and swept Minnesota State.
Neither are the Mavericks an identical squad, and that distinction was apparent on Friday at the Sanford Center. No. 13 MSU, which has once again positioned itself for a spot in the NCAA Tournament as well as a potential MacNaughton Cup, scored four goals in a row to quickly flip a 1-0 deficit into a 4-1 road win.
"That's a team that's dialed in," BSU head coach Tom Serratore said. "I told (MSU head coach) Mike Hastings after the game, they were dialed in. And that's a testament to the coaching staff and those players over there."
The Beavers (12-14-5, 10-10-3 CCHA) grasped an initial lead late in the second period when Lleyton Roed scored unassisted at 14:06, but after that, it was all Minnesota State (20-10-1, 15-7-1 CCHA).
Christian Fitzgerald answered first at 15:48, then again at 19:01 to give the Mavericks a 2-1 lead by the second intermission. They kept their horns pointed forward in the third period, as Lucas Sowder scored off a rebound in the left circle at 6:54. Jake Livingstone picked up a delayed penalty goal at 10:40 to seal the final margin.
"We know who we're playing," Serratore said. "We've played these guys enough. … You've got to bring it, and you've got to understand that it's going to be hard, it's not going to be fun. It's going to be physical. You'd better bring the hard hat, the Wells Lamont gloves, the steel-toed boots. It's just the way it is."
Serratore invoked the lessons of his head coach at Bemidji State, the legendary Bob Peters, when examining what it will take for the Beavers to bring the fight to a scorching-hot MSU group.
"Coach Peters always said it, and I told our guys, 'You've got to win the battle of the pits.'" Serratore said. "And the pits are in the corners, in front of the net, behind the net, on the wall and on the blue lines. Those are areas that you've got to win games. That better be a high priority for us tomorrow. It was a high priority for Mankato tonight."
He challenged his players to look within and find the resolve necessary to pull out a win, especially considering BSU's tenuous hold on home ice in the CCHA playoffs.
"They're a team that's hard to play against, and they play a very heavy game," Serratore said. "And when you play a team like this, you've got to play a heavy game. If you don't want to play heavy, you're not going to have a lot of fun. So you've got to compete, and you've got to battle and you've got to do little things extremely well. Sometimes, you've got to look in the mirror and just figure out, what's this game going to be like? Because it's not open hockey."
With the victory, Minnesota State leapfrogged Michigan Tech to seize first place in the CCHA standings while still holding a game in hand on the Huskies. Bemidji State benefited from Ferris State's 9-2 loss to Northern Michigan, and the Beavers remain one point ahead of the Bulldogs for the No. 4 seed and home ice in the first round of the conference playoffs.
BSU gets another opportunity against the Mavericks at 6:07 p.m. on Saturday, Feb. 18, back at the Sanford Center.
Minnesota State 4, Bemidji State 1
MSU 0 2 2 -- 4
BSU 0 1 0 -- 1
First period -- No scoring.
Second period -- 1, BSU GOAL, Roed (unassisted), 14:06; 2, MSU GOAL, Fitzgerald (Eisele, Sandelin), 15:48; 3, MSU GOAL, Fitzgerald (Sandelin, Cichosz), 19:01.
Third period -- 4, MSU GOAL, Sowder (Carroll), 6:54; 5, MSU GOAL, Livingstone (unassisted), 10:40, DP.
Saves -- Sholl (BSU) 22; Rancier (MSU) 15.