LETTER TO THE EDITOR: Both the city council and school board need improvement
The following is a letter to the editor submitted by a reader and does not reflect the views of the Pioneer. Letters can be sent to letters@bemidjipioneer.com or P.O. Box 455, Bemidji, MN 56601.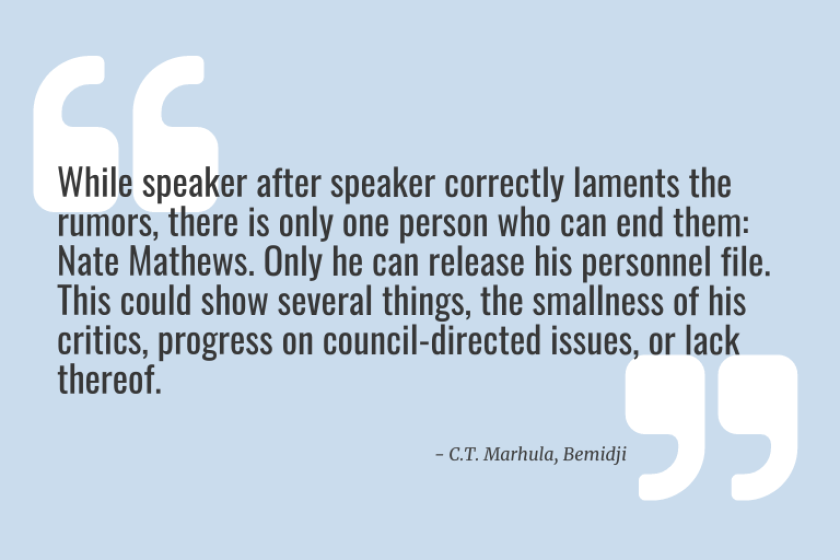 I am "Switzerland" — neutral — on the latest Bemidji City Hall kerfuffle. I like all the parties involved. That being said, all stakeholders deserve the truth. The opinion piece recently submitted by six former elected representatives contained, dare I say it, alternative facts.
In the same paragraph they claim both the "right to privacy" and "employees right to a public hearing." The law is very clear. In this type of discussion, the choice for an open or closed meeting lies with the employee. As the writers know, since they were involved in a hearing in August 2019, any decision must be taken in an open meeting.
RELATED: Read more letters to the editor
The writers stated, "If the current council were to poll them (department heads), as we did…" Wow, chutzpah on steroids. The writers either resigned, chose not to run or were defeated in an election. There is only one thing more arrogant than former elected officials telling current elected officials what to do.
That is former officials actually surveying current department heads. And any department head who actually participated needs a refresher course in management principles and chain of command.
Let's look at the law. MN 13D.05 Subd. 2(4)b and Subd 3. "…A meeting must be open at the request of the individual who is the subject of the meeting." CITY CHARTER. CHAPTER 6 Section 6.01 "…council….may remove him (city manager) at any time by a majority vote of the members…"
The employment contract, signed by former mayor Albrecht, in EMPLOYMENT CONTRACT Sec. 17 says "Nothing…shall prevent, limit, or otherwise interfere with the right of Employer to terminate the service of Employee at any time, for any reason,…"
RELATED: Quick tips on Pioneer letter to the editor submissions
While speaker after speaker correctly laments the rumors, there is only one person who can end them: Nate Mathews. Only he can release his personnel file. This could show several things, the smallness of his critics, progress on council-directed issues, or lack thereof.
Oh, and now I have heard a rumor the unpaid volunteer pastor at the fire department has just been removed from his position for refusing to violate the clergy–penitent privilege. Uff da!?
Bemidji is a great place to live, love, learn, work and play. And both the Bemidji City Council and Bemidji school board — 20 minutes to approve the agenda — need to substantially improve their game.