Ditterich Family Farm expands into Ditterich Mercantile to fill grocery gap
Ditterich Mercantile recently opened to fill a need for a grocery store in Vergas, Minnesota. It's an example of community innovation and passion.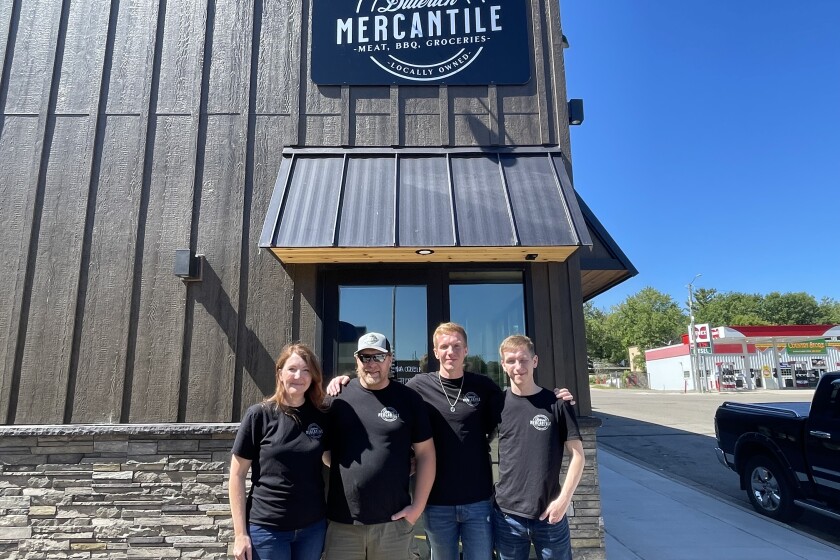 We are part of The Trust Project.
When a small-town grocery store closes, the strength of the community takes a hit. Most people sit around and talk about what's next, but very few take action to create positive change.
This week, I visited a brand-new grocery store in Vergas, Minnesota, owned and operated by a farm family, DuWayne and Jennifer Ditterich, who are taking a risk to grow their meat and catering businesses. Two of their sons, Hunter, 23, and Colton, 21, were working at the store during my visit.
In 2016, the grocery store in Vergas closed.
"It was a real heartbreak for the community. A grocery store is so central to a community," said Mayor Julie Bruhn.
In a 20-minute radius of the town, you can drive to four towns with grocery stores and a big box store. Would the town of 355 people and the surrounding lake area's seasonal and year-round residents make new habits and shop in the area towns?
"We need to use our local people. We need to shop at our local stores, otherwise it's not going to be there when we want it, and the only way to do that is invest in it," said Sherri Hanson, Vergas Community Club president.
The community of Vergas went to work, together. In the months and couple of years that followed, a group of community members started meeting, creating a grocery store committee around 2018. Sherri and DuWayne were both committee members.
I visited Ditterich Family Farm in spring 2021. At that time, our story was about how the Ditteriches started farming in 2007 after skipping a generation, how they transitioned their primarily row-crop farm to beef production and how they've grown to sell directly to consumers through a small on-farm store they built and a food truck.
Jennifer told me this week they didn't want to "jinx it" by talking about the new grocery store plans last spring. The Ditteriches held a family meeting over supper to decide if they wanted to go into the grocery store business together. The vote was 5-0, including youngest son Boone, age 11, in favor of working as a family in the business. By late August 2021, the project was a go.
"I decided that if somebody would build the building and lease me the space that we would put up the grocery store, and then we'll move our meat into the store and the food truck that we have. So now we can do the catering out of a full commercial size kitchen. We can actually sell fresh meat also," DuWayne Ditterich said on Aug. 8 during the store's fourth day of operating.
Ditterich Mercantile is funded by West Central Initiative, Vergas State Bank and "self-funding," according to DuWayne, who said they decided to change their farming model and sold some farm equipment to have additional funds to put toward the project.
The building itself is a result of community investors, and multi-generational businesses willing to build and invest in the community of Vergas. The new building will hold a 24-hour fitness center and a new pastry shop soon to open along with Ditterich Mercantile. The main floor of the building also features a handicap-accessible apartment, with the second story housing seven apartments, all rented out, according to Hanson, a lifelong resident.
Community vitality matters. Businesses need to get along and work together. Individuals need to be willing to serve, research, learn and give of their expertise, talent and time to selflessly build up their community for others. Each Vergas business leader I spoke to shared a passion for their town to not simply survive but to grow and evolve.
Will the community support the new grocery store? In my experience, you can't go into a small grocery store with an elaborate list of groceries. You must buy what's in the grocery store. My farming grandmother and mom taught me how to feed my family based on what's available. Their meals revolve around what their small-town grocery store has in stock and what they can grow in the summer months in a big garden.
DuWayne and his sons went on a road trip around Minnesota to visit meat processors and taste different meat products to carry in their grocery store this past winter. The meat case includes Ditterich Family Farm beef as well as other products produced locally and by smaller family-owned companies.
DuWayne thinks this small, family-owned store can compete with the larger stores in nearby towns by offering quality local products. He says he's a risk taker and urges other farmers to not be afraid to take a risk.
"Put your heart and soul into it, do a great job with it, give them a good product at a fair price and you're going to succeed."
Pinke is the publisher and general manager of Agweek. She can be reached at kpinke@agweek.com, or connect with her on Twitter @katpinke.