Sanford celebrates grand opening of new Bemidji Crisis Center
In a major milestone for behavioral health care in the area, community members and Sanford Health staff celebrated the grand opening of the new Bemidji Crisis Center on Thursday, which will begin accepting patients in just two weeks.
We are part of The Trust Project.
BEMIDJI — In a major milestone for behavioral health care in the area, community members and Sanford Health staff celebrated the grand opening of the new Bemidji Crisis Center on Thursday, which will begin accepting patients in just two weeks.
"We are extremely excited to see this project come to completion," said Susan Jarvis, president of Sanford Health of Northern Minnesota. "The care that will be provided here will have a tremendous impact on our community and will fill a huge gap for our patients."
The completion of the center, located at 3220 Hannah Ave. NW, means that patients in crisis in the Bemidji area will no longer have to travel significant distances to receive the care they need, allowing them to stay closer to their families and support systems.
"(Not having a center nearby) meant waiting sometimes for hours, then traveling 90 miles or more, very far from their families, to receive the care that they needed," Jarvis said. "Having this resource close to home will not only save lives but will be a step forward in impacting their quality of life."
Built in partnership with Beltrami County and the state of Minnesota, the $6.9 million facility first broke ground in October 2021. Funding for the project included $3.65 million from a bond from the Minnesota Department of Health and $1.4 million from American Rescue Plan funds.
The center will have eight inpatient beds available for adults, and it will be the first center in northwest Minnesota to feature Emergency Psychiatric Assessment and Healing units for adults, children and families.
"Bringing all these services to the patients gets them the resources that they need to return home," said Karla Eischens, vice president of operations at Sanford Bemidji. "The care team built specialized programming that will wrap around patients in crisis and get them the support that they need."
These options for both inpatient and outpatient care will provide direct access to different types of treatment and the ability to move between them as a patient needs.
"The goal is to help people stay at home if possible, and if not, to offer a safe space and a wide continuum of care that someone can move throughout, " said Ashlea McMartin, director of behavioral health at Sanford Bemidji.
These services are particularly important amid an increase in crisis patients, with Jarvis noting that Sanford medical staff saw a 44% increase in crisis encounters with patients from 2020 to 2021.
Normalizing conversations around mental health is particularly important in light of those numbers, McMartin explained.
"When you get to hear someone's story (it often) makes sense how they got to this place. Anyone in those circumstances might be in that place," she added. "But as much as there's a process to get there, there's also a process to get on the other side of it. We're hoping we can be part of that journey."
The hope is that the center will also reduce the stress on other parts of the area's medical system, decreasing the wait for treatment and the length of stay for patients in crisis.
"It's going to be supporting our bigger hospital system here in the region," said Dr. Jerrod Spring, a physician and psychiatrist at Sanford Bemidji. "Now when someone comes into the ER it just becomes a call to the crisis center, with real-time bed availability nearby."
The full impact that the crisis center will have on the region and its ability to provide behavioral health services is still unknown, but the benefits are clear.
From improving access to inpatient and outpatient care to providing wrap-around and peer support, the potential for this crisis center to help both its patients and the broader community is something everyone involved with it is excited about.
"If we're building it for the community, we're building it for each other and ourselves," McMartin said. "That's what excites me the most."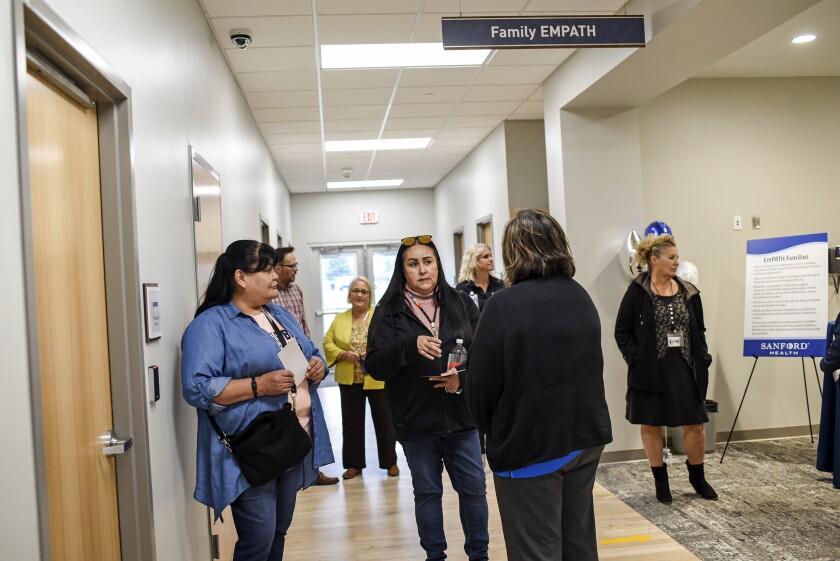 Gay and bisexual men had once been barred from donating blood due to HIV concerns. After easing the restrictions over time, the FDA may significantly ease the restrictions once again to expand the donor-eligible population.
When your alarm clock goes off, do you hop out of bed feeling refreshed and ready to tackle the day? Or are you groggy, tired and would rather hit snooze and sleep longer? A new study shows that the secret to feeling more energetic in the morning is to do three things. Viv Williams has the details in this episode of NewsMD's "Health Fusion."
What are your favorite holiday foods? In this NewsMD column, a local chef demonstrates his mother's amazing Christmas lasagna. And Viv Williams explores how holiday food traditions can be good for your health.