Report predicts worsening health care worker shortage in Minnesota
Hardest hit areas will be rural, according to the study of burnout and stress induced by pressures faced by treatment providers during 2020 and 2021.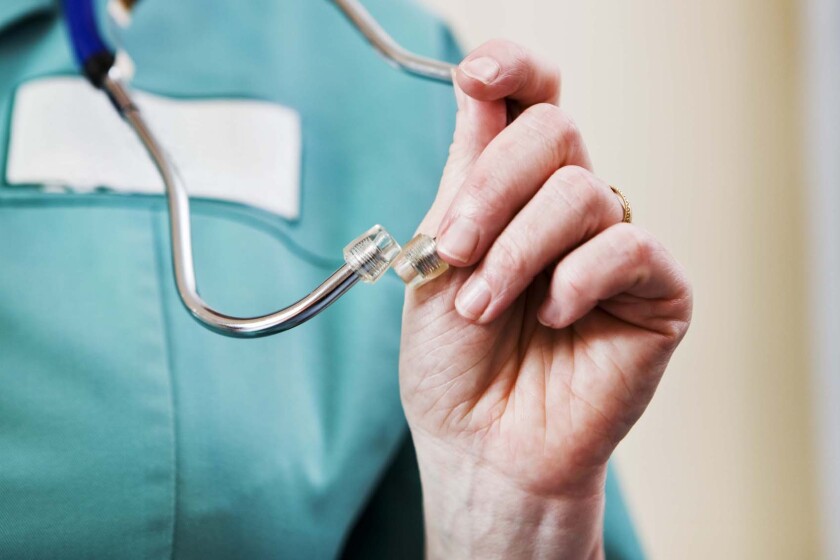 We are part of The Trust Project.
ROCHESTER, Minn. — Almost one in five rural health care providers say they plan to leave their profession within the next five years, according to a new report from the Minnesota Department of Health.
The finding is one of several within "Minnesota's Health Care Workforce: Pandemic-Provoked Workforce Exits, Burnout and Shortages," a document released Tuesday, April 12.
Drawing on a December 2021 survey of more than 245,000 licensed health care professionals compared to views of the same group prior to the pandemic, the report paints a sobering picture of a health care skilled infrastructure crisis in the making.
Among its proposed solutions are familiar appeals to investment in the education pipeline but also that health systems offer "more than appreciation" to address burnout, and make the jobs "as safe, flexible, lucrative, and family-friendly as possible."
"We are going to need several approaches and solutions aimed at both recruiting the future workforce and retaining the current one," Minnesota Department of Health Commissioner Jan Malcolm said in a statement.
"We in government and health care must do more to prioritize retention, work with educational institutions to expand clinical training opportunities, and focus more broadly on the care team, including nurses, physicians, physician assistants, respiratory therapists and others."
Survey recipients included all licensed physicians, physician assistants, nurses, respiratory therapists, and licensed mental health providers.
The report drew on questionnaires administered at the time a provider renews his or her professional license. The largest projected losses identified by the report are among physicians.
"If the self-reports are correct," the report stated, "Minnesota could lose nearly one-third of its rural physicians and one-fifth of its rural physician assistants, leaving gaps in care that would be extremely challenging to fill."
According to the report, "health care workers in all settings and across all professions quit during the pandemic — either to seek out more attractive work arrangements within health care, or to work outside the profession, either temporarily or permanently."
The study found that between 2019 and 2021 the percent of doctors who left the profession jumped by 25% — from 8% to 10%. It also found a 33% jump among registered nurses with the percent who left the field rising from 9% in 2019 to 12% in 2021.
Survey respondents said burnout and job dissatisfaction accounts for 26% of all planned physician assistant workforce exits, and 22% of respiratory therapy exits.
"Any such increase in those planning to leave is concerning," the authors cautioned, "because the state is already facing a shortage of providers in critical occupations."
"However, in some cases," the report continued, "the increases are alarming. In particular: More than one quarter of respiratory therapists; 22% of licensed practical nurses; 20% of physicians; and 19% of registered nurses report that they plan to leave their profession within the next five years."
"This new report underscores the need for solutions to the understaffing and retention crisis executives have created in our hospitals," Minnesota Nurses Association spokesperson Sam Fettig said in a statement.
"Nurses want to be at the bedside doing what they love — providing exceptional care to their patients — but the profit-first policies of hospital CEOs are driving nurses away from bedside care."
The authors said there is no one-size-fits-all solution to the looming shortages, highlighting the need for a "focus on both growing the pipeline and retaining the current workforce."
Suggested policy solutions included an appeal that "the state must engage all sectors and policy levers at its disposal to grow and nurture the health care workforce pipeline."
These include "loan forgiveness for health care providers, scholarships, stipends and career exploration initiatives for new and dislocated workers, and programs aimed at increasing the diversity of the workforce" according to the report.
The report advocated for budgetary measures, proposed by the Gov. Tim Walz administration, to advance free certified nursing training and "tuition-free pathways for students in high-need career areas," $1 billion in payments to front-line workers, and an incentive program that would provide payments for workers who join and stay in the caring professions.
"Critical workforce shortages in these sectors," the report concluded, "have deepened during the pandemic and pose a threat to the health, independence and stability of Minnesotans who rely on it."