WHAT'S IN A NAME: 25 years before Beltrami, a British-Canadian fur trader explored the area
With a slight twist of events, Beltrami County could have been named Thompson County.
We are part of The Trust Project.
Editor's note: This is the first in a 20-story series titled "What's in a name?" completed by Pioneer reporters for our 2022 Annual Report. Read more of the section by clicking the embed at the bottom of this article.
With a slight twist of events, Beltrami County could have been named Thompson County.
That's because in 1798, a British-Canadian man named David Thompson was the first foreign explorer to supply descriptions of Red Lake and Turtle Lake, according to the Genealogy Trails History Group website.
Thompson was a fur trader, surveyor and cartographer who was known to some Native American people as "Koo-Koo-Sint" or "the Stargazer." In his career, Thompson traveled 56,000 miles across North America, mapping 1.9 million square miles along the way. He has been described as the greatest practical land geographer that the world has produced.
But it was an Italian explorer — Giacomo Costantino Beltrami — for whom the county was named. In 1823, Beltrami was in search of the Mississippi River's source when he came upon a lake he named for a deceased friend: Lake Julia.
Beltrami thought the lake sent its waters both toward the Mississippi and into what was then known as the Bloody River, later formally named the Red Lake River.
Most locals know that Bemidji was named for the Ojibwe Chief Shaynowishkung, whose band of about 50 people had their homes on and near the south end of Lake Bemidji and around Lake Irving, including the site where white settlers founded the town.
Chief Bemidji's name was taken from the older Ojibwe name of this lake, crossed by the Mississippi River. It was translated as "the lake where the current flows directly across the water."
Explorer Henry Schoolcraft, in the narrative of his expedition to Lake Itasca in 1832, wrote the name of Lake Bemidji as "Pamitchi Gumaug" or "Lac Travers."
On a map drawn by Joseph Nicollet in 1843, the lake is spelled "Pemidji L." Nicollet, a French scientist, geographer and mathematician, led three expeditions from 1836 through 1839. His map of the Hydrographical Basin of the Upper Mississippi covered parts of what would become eight states.
Here are some other interesting stories of how things were named in the area, according to the Genealogy Trails History Group website:

The town of Nebish and its lake bearing the same name are from the Ojibwe word "anibish," which means tea.

Ponemah, a village on the Lower Red Lake, bears a name used by Henry Wadsworth Longfellow in "The Song of Hiawatha."

Puposky, a village in Durand Township on Lake Puposky, is an Ojibwe name recorded and translated by Count Beltrami, signifying "the end of the shaking lands," that is, swamps whose surface is shaken and sinks when walked on. It has also been translated as Mud Lake, with the Mud River outflowing from it.

Solway and the former Solway Lumber Company were named after Solway Firth, the wide inlet from the Irish Sea between England and Scotland.

Tenstrike, a railroad village on the line between Port Hope and Taylor townships, was platted and named by Almon A. White of St. Paul, alluding to the completely successful bowling which with the first ball knocks down all 10 pins.


Frank Lyon's homestead in Waskish is pictured in this undated historical photo.

Courtesy / Beltrami County Historical Society

Waskish, at the east end of Upper Red Lake, is from the Ojibwe word for deer: "wawashkeshi."

Hubbard County was named in honor of Lucius Frederick Hubbard, governor of Minnesota from 1882 to 1887.

Clearwater County received its name from the Clearwater river and lake.

Cass County was named for statesman Lewis Cass, who in 1820 commanded an exploring expedition that started in Detroit, passed through lakes Huron and Superior, and then advanced to Cass Lake.

Bagley, the Clearwater County seat, was named in honor of Sumner C. Bagley, an early lumberman, who later moved to Fosston.


The Clearwater County History Center is located at 264 First Street in Shevlin. (Pioneer file photo)

Shevlin township and village were named in honor of Thomas Henry Shevlin of Minneapolis, who came to Minnesota in 1886, settled in Minneapolis, and was president of several logging and lumber manufacturing companies, cutting much pine timber in Clearwater County. He was the donor of Alice A. Shevlin Hall at the University of Minnesota.
The stream now named Schoolcraft River was called by Henry Schoolcraft the "Plantagenian or south fork of the Mississippi." Lake Plantagenet, through which it flows, retains the name that Schoolcraft gave it in 1832. These names, for a line of kings of England, were derived from the flowering broom (in Latin, planta genista), chosen as a family emblem by Geoffrey, count of Anjou, whose son was Henry II, the first of the Plantagenet kings.

Alaska Township was named by settlers who had traveled to Alaska.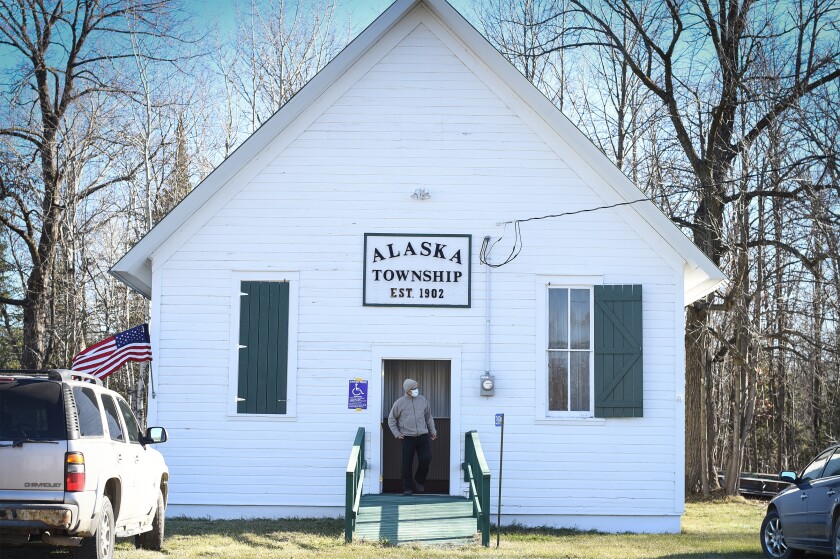 Buzzle Township and Buzzle Lake were named in honor of an early settler beside the lake.

Durand Township is named for Charles Durand, a homesteader on the northeast side of Lake Puposky.

Eckles Township bears the name of an early landholder interested in the building of its branch of the Great Northern railway.

Eugene Township was most likely named for Eugene V. Debs, of Indiana, candidate of the Socialist Party for president of the United States in 1904, 1908 and 1912.

Farley, a railway station in Port Hope Township, was named for a lumberman and merchant there, who removed west several years ago and has since died.

Frohn was named for a district of Gudbrandsdalen, Norway, the former home of immigrants in this township.

Funkley, a railway station and junction in Hornet township, was named for Henry Funkley, a lawyer in Bemidji.

Grant Valley Township and Grant Lake, with its outlet Grant Creek, were named for an early settler or lumberman.

Hagali Township was named for an early Norwegian settler.

Hornet Township was originally named Murray, a duplication of an older Minnesota township name, and the charge and selection of the present name caused much contention.

Kelliher Township and its village, at the end of a branch railway built for lumbering, were named for A.O. Kelliher, a former agent here for lumber companies.
Lammers Township was named for the Lammers Brothers (George A. and Albert J.), of Stillwater, who engaged in real estate and lumber business in this township.

Maple Ridge Township was named for its sugar maple trees, and for its situation at the sources of streams descending north to Red Lake. Sugar Bush Township is also named for the maple trees and sugar-making.

Port Hope Township was named by one of its first settlers, Captain William Wetzel, a veteran of the Mexican War and the Civil War, probably for Port Hope, Canada, on the north shore of Lake Ontario.

Shooks Township was named for Edward Shooks, who was a merchant there at a former station of the Kelliher railway branch.

Spooner Township is in honor of Judge Marshall A. Spooner of Bemidji, who served from 1903 to 1908.

Turtle Lake Township bears the name of its large lake, translated from an Ojibwe word. Explorer David Thompson, who traveled there in 1798, wrote of this lake that "its many small bays give it the rude form of a turtle."

Wilton, a railway village and junction in Eckles Township, was named for one of the 15 or more villages and towns of this name in the eastern states, Canada and England.