Paul Bunyan Dog Training Association kicks off annual 3-day competition
Participants and their dogs gathered on Friday, Sept. 9, for the 11th annual United Kennel Club all-breed dog show for a weekend of competition at the Beltrami County Fairgrounds.
We are part of The Trust Project.
BEMIDJI — Participants and their dogs gathered on Friday for the 11th annual United Kennel Club all-breed dog show for a weekend of competition.
The Beltrami County Fairgrounds came to life as approximately 130 dogs flooded into the Commercial Building to compete on Friday morning to kick off the three-day event with a Rally Obedience competition.
The free UKC dog show, which runs through Sunday, Sept. 11, gives spectators the opportunity to talk to specific breed experts and watch handlers and their dogs demonstrate their dedication in the ring.
Food and beverages will also be available throughout the weekend along with a Twin Cities-based artist offering artwork for spectators and exhibitors.
During competitions, dogs are presented in the ring by their handlers. The handler may not always be the owner of the dog. In some cases, the owner has two dogs and needs an extra hand during competitions: That's where volunteer handler Andrea Gerraid comes in.
"I've always wanted to show dogs since I was a kid, I grew up going to shows with my sister and now I just help handle when anyone needs it," Gerraid said. "I don't get paid for this or anything, I just do it for fun, I probably go to one to two shows a month and now it's kind of my getaway."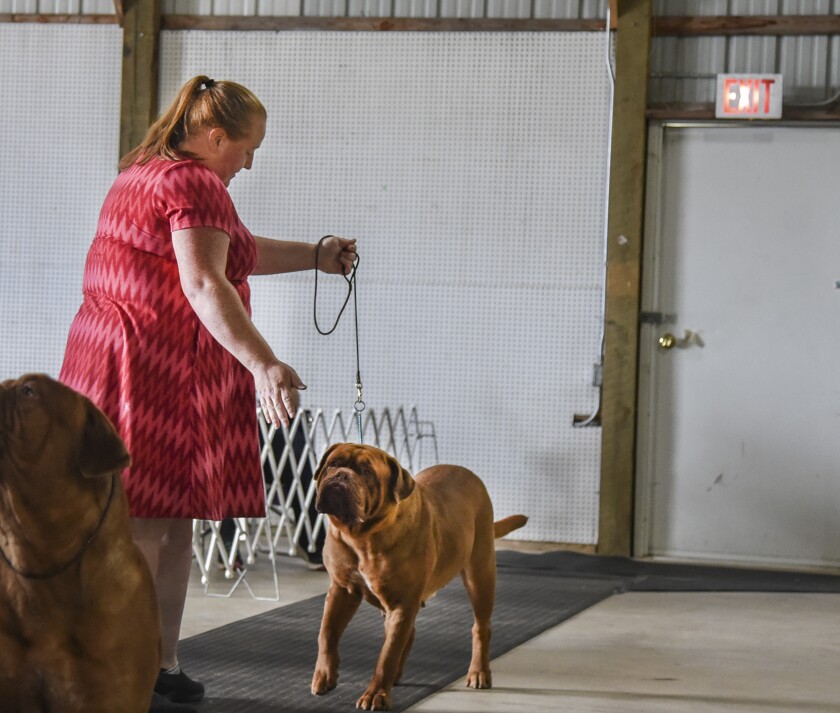 The Rally Obedience competition was followed by two Conformation shows. The competitions are held in two different rings where each furry competitor is judged according to their breed. Judges check everything from eye color to the color of their coats.
The judges are considered knowledgeable and experienced purebred dog experts. They look at the dogs' physical characteristics, movement and temperament. Then, they determine which dogs measure up most closely to their respective breed standards.
"First they go around the ring, then they need to get checked by the judges and the smaller dogs get put on the table," said Gerraid. "They get their whole bodies checked to make sure everything is standard according to their breed, after that they do a down and back and go around the ring one more time and the judges select a winner."
Basically, the dogs have to have the looks to excel as a proper specimen of their breed along with having the brains and ability to perform and cooperate with their handler. Some may think of it as a beauty pageant for dogs, while others recognize that it's an essential step to improving each breed for future generations.
According to Ethan Larson, a member of the Paul Bunyan Dog Training Association and a handler in the dog show, there's always a wide range of experienced handlers, but there are also a few participants showing their dogs for the first time.
"We are very proud to host this dog show every year and it's a nice way to meet new people," Larson said. "Some people have been coming all 11 years, but some are here for the first time and we are always happy to have them."
The show marks Larson's sixth time participating as a handler to his 11-year-old chihuahua, Hero. He said they were both excited to be back participating in the ring and interacting with others passionate about the sport.
"The best part is interacting with the participants and seeing the dogs. I really only compete in this show every year since it's local, it's just a nice time to catch up with old friends," Larson said. "I look forward to this each year and we always try to add something new to make the show different and unique."
Throughout the weekend, participants will be competing for Best in Show, Rally Obedience and Total Dog awards. The event continues Saturday and Sunday starting with Rally Obedience at 8 a.m. and two Conformation shows starting at 9 a.m. each morning.
The event is free and spectators are welcome, but event organizers ask that people leave their pets at home, as club rules state that unentered dogs will not be allowed at the show.