'Never forget the fallen': Law enforcement honored at Bemidji memorial service
In the midst of National Police Week, area law enforcement agencies and supportive community members gathered at Fire Station 1 on Thursday for a law enforcement memorial service.
We are part of The Trust Project.
BEMIDJI — In the midst of National Police Week, area law enforcement agencies and supportive community members gathered at Fire Station 1 on Thursday for a law enforcement memorial service.
The event, hosted by the Bemidji Police Department and Beltrami County Sheriff's Office, drew about 50 attendees.
"I want to, first of all, thank all of you that showed up today in honor of those that have made the ultimate sacrifice for this profession, for their communities, and for you," Beltrami County Sheriff Captain Jason Riggs said to welcome attendees.
After an opening prayer and a singing of the national anthem by former Beltrami County Commissioner Joe Vene, retired Beltrami County Sheriff Keith Winger and retired Chief Deputy Tom Lyons performed a song about law enforcement funerals titled "Badges with Black Ribbons."
Bemidji Police Captain David LaZella took to the microphone to bring awareness to the rising number of law enforcement deaths that have occurred in recent years.
"2021 surpassed 2020 as the deadliest year for law enforcement," LaZella said. "The month of May is dedicated to remembering each of these officers who have given that sacrifice."
With law enforcement deaths on the rise, LaZella emphasized the importance of officer safety and mental health. Stressors that officers endure such as overtime, increased employee shortages and repeated exposure to trauma, LaZella explained, take a toll on the well-being of officers.
"Many of us are reluctant to seek help due to the labels associated and a belief that we should be able to handle these things on our own," LaZella said. "These stressors do require help at times."
Bemidji Major Jorge Prince also addressed members of law enforcement at the event, extending his gratitude to them for their dedicated service to the community.
"On behalf of the city and behalf of our council members that are here, thank you for the work that all of you do each and every day," Prince said. "It's not lost on us — the sacrifices that are made, the potential for danger, and the potential for loss of life."
Chaplain Derek Claypool read the Minnesota memorial roll call during the program, honoring each officer in the state who died between 2019 and 2022. This included officers who had died both on and off-duty.
The station fell silent following the memorial roll call as Ken Roff performed "Taps" on the trumpet, followed by "Amazing Grace" performed by Jim Dougherty on the bagpipes.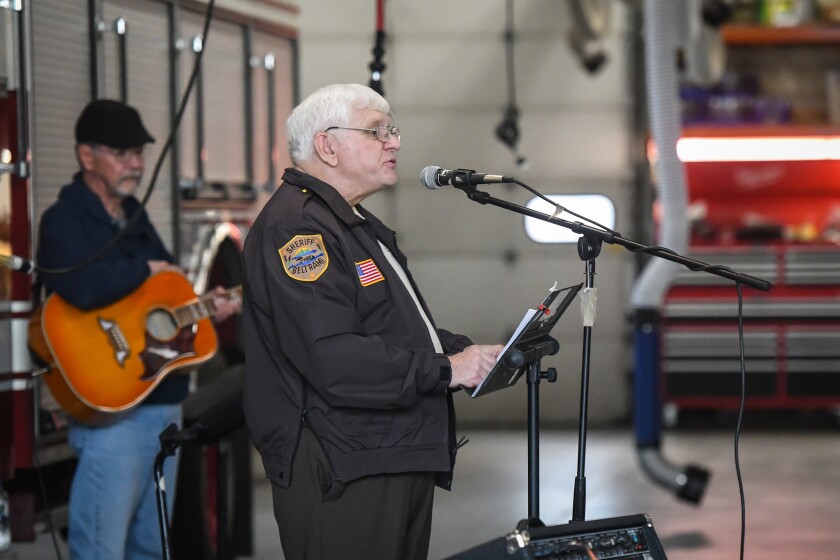 Reverend Mike Bakke, retired chief deputy, also spoke during the event. He described the hardships that members of law enforcement deal with throughout their careers, including the looming possibility that their lives could end while on duty.
"Police officers bear the weight of a community's worst tragedies," Bakke said. "The weight carried by officers and their families includes the potential for injury, being involved in a life-changing critical incident, and the potential for the ultimate sacrifice — death in the line of duty."
He explained that support from the community can help ease the mental burden that officers carry.
"A vast majority of us in civilian life could not endure the daily grind of police work — it is a weight that many of us cannot bear," Bakke said. "But it is a weight that we can help our law enforcement officers bear, by being deliberate, and supporting and encouraging officers in charge of protecting our communities,"
Bakke stressed the importance of honoring law enforcement officers who have died, while also encouraging and supporting those who serve the community today.
"As we leave here today, let us never forget the fallen," Bakke said in closing. "But let us also resolve the ability to do our best to give our officers an overwhelming sense of support. They deserve and need our support."