Leech Lake State of the Band address highlights triumphs, challenges of 2022
Despite winter weather sweeping through the area the night before, Leech Lake Nation weathered the storm at its annual State of the Band address at Northern Lights Casino in Walker on Friday.
WALKER — Despite winter weather sweeping through the area the night before, the Leech Lake Band of Ojibwe weathered the storm at its annual State of the Band address at Northern Lights Casino on Friday in Walker.
Serving as a reflection on the successes and challenges of 2022 and an optimistic look at the remainder of 2023, attendees took in messages of community and resilience.
"It's been a while since we gathered (due to the pandemic). It's been a long haul to get to where we are today with everything that occurred and everything that happened not only here at Leech Lake but all over Turtle Island," master of ceremonies Gary Charwood said in opening. "It's an honor to be here."
Following an opening song, invocation and guest speakers, Leech Lake Tribal Chairman Faron Jackson delivered his State of the Band address.
Chairman Jackson's Address
In speaking about the past year, Jackson detailed the role that the Leech Lake Tribal Council and divisional leaders have played throughout several developments of the past year.
"We've been making good progress here and I'm just thankful that the council has been supportive of my leadership. It has to be a cohesive working relationship," Jackson said. "Sometimes, as council members and as the chairman, you have your mind in problem-solving mode all the time. We're always thinking about how we can do something better."
Among several topics, Jackson highlighted Leech Lake's recent victory in starting to retain over 11,000 acres of land currently managed by the Chippewa National Forest.
Later this year, Jackson added that U.S. Senator Tina Smith will be introducing a correction to the Leech Lake Reservation Restoration Act of 2020, which identifies another 4,000 acres transferred by the U.S. Department of the Interior to the Chippewa National Forest in the 1940s and 50s without the band's consent or individual land allottees.
"The tribal council will be searching for support, testifying and aggressively supporting this technical correction," Jackson said. "Today, we are standing on Leech Lake Ojibwe land and this land is going to be inherited by our children to take care of."
Jackson shared that Leech Lake has nearly 10,000 enrolled band members with the band straddling Itasca, Hubbard, Beltrami and Cass Counties. He noted past and present efforts alongside the Minnesota Chippewa Tribe to defend tribal sovereignty by advocating for each tribe's self-autonomy and how it sets enrollment guidelines.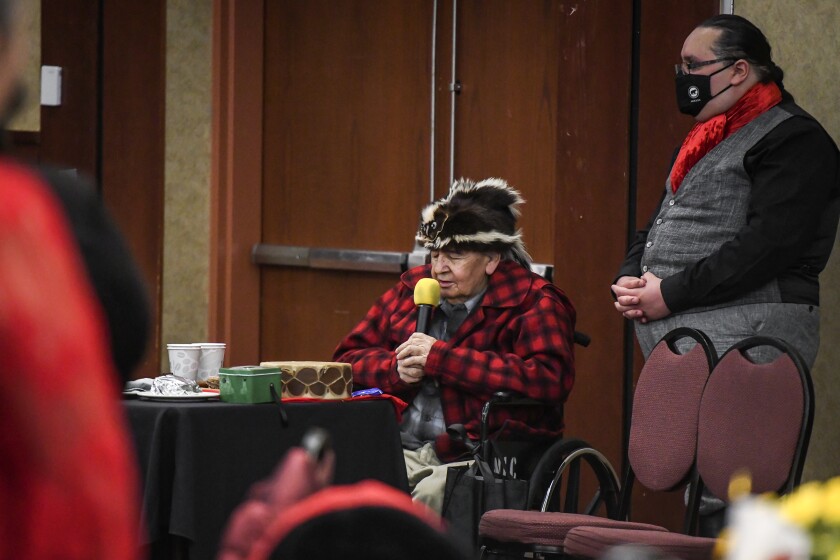 "Leech Lake had always thought that each tribe should be able to decide its own enrollment criteria because we are a sovereign, independent government and self-determination should rule here," Jackson said.
Jackson noted the evergreen housing issue and efforts that have been made with the Leech Lake Housing Authority to expand affordable tribal housing. Between 500 and 600 tribal members are currently on housing waiting lists with Jackson anticipating many more who simply haven't signed up.
"As we get to acquire more land, we want to be able to put some more homes on that land for our members so we don't have two or three families living in one home," he said. "We love our children and grandchildren and we'll never see them be homeless as long as we're alive."
On the financial front, Jackson shared that Leech Lake set a $ 15 per hour minimum wage in March 2022 to address inflationary pressures placed on families, a decision that came easy for the tribal council.
"After all the discussions, the answer was simple: it was about our members and families," Jackson added.
He credited Leech Lake as the largest employer in Cass County with over 1,000 people employed by Leech Lake Gaming, the workforce for which is around 50% Native American and 50% non-Native.
"We're a good partner here in Cass County and we really appreciate the hard work of our gaming employees," he added. "Our gaming revenue is our main locomotive right now. It helps fund a lot of our programs that are currently underfunded."
The Minnesota Legislature will also review a bill regarding sports betting, which would provide Minnesota tribes an exclusive right to have lawful sports betting supported by professional team owners in the state. The tribal council has been consulting with lobbyists and other groups including the Minnesota Indian Gaming Association regarding this proposal.
Jackson highlighted other infrastructure and funding-related matters including plans to construct a Leech Lake Area Health and Wellness Center, which he described as being "shovel-ready" once the band secures funding. The tribal council is requesting a $25 million appropriation from the legislature for this project.
The tribal council is also supporting a bill that would provide grant funding to the state's tribal colleges, amounting to $3 million for the 2024 and 2025 fiscal years.
"Just a few years back, our Leech Lake Tribal College was recognized as one of the best tribal colleges in the United States," Jackson said to a round of applause. "This bill would provide needed funding."
Appearing via video, Lt. Gov. Peggy Flanagan spoke about past efforts and the coming years of collaboration between the state and Leech Lake Nation in advancing Native issues and bolstering Indigenous voices.
"For far too long, decisions have been made without us at the table … Now we're seeing the impact of representation at all levels of government," Flanagan said. "I'm excited about the work together on advancing our shared priorities. Building one Minnesota means working toward a better future for all of us in Mni Sota Makoce."
Secretary of State Steve Simon spoke via video about the 2023-2024 Minnesota Blue Book, the theme of which will honor the 100th anniversary of the passage of the 1924 Indian Citizenship Act, which granted citizenship to all Native Americans born in the United States.
"We will continue to work with you and other tribal governments across our state over the next year to honor and memorialize that great event," Simon said, "a step forward in progress despite the struggles that still exist."
Other speakers included U.S. Senators Amy Klobuchar and Tina Smith, both via video, along with former U.S. Representative Rick Nolan, state auditor Julie Blaha and Miss Indian World Candidate Rozalinda Hunt all speaking in person.
Following lunch and door prize drawings, another State of the Band event along with the previous year concluded in tandem.
The recorded stream can be viewed on the Leech Lake Band of Ojibwe Facebook page or on Vimeo. The video feed begins at the 38-minute mark.