Kelliher robotics team headed to world championship after regional success
The Bog Bots from Kelliher qualified on Saturday, March 26, at the Great Northern Regional in Grand Forks, N.D.
KELLIHER — Four Kelliher High School students have literally climbed themselves into a berth in the FIRST Championships, an international robotics competition to be held April 20-23 in Houston, Texas.
The Bog Bots from Kelliher qualified on Saturday, March 26, at the Great Northern Regional in Grand Forks, N.D. They were part of an alliance with the Greenbush-Middle River Gators, who had already qualified for the world event in Houston.
"When they announced that we were going to Houston, our whole team just basically sat there because we were in such shock," said Evan Waldo, a Kelliher junior. "We're all very happy to get this experience to go."
The other team members are junior Cooper Brambrink and sophomores Gregor Pederson and Dakota Swanson. Mentors are Susan Wachtler, Leon Mostad and Wyatt Jensen. Kelliher's robotics program is in its sixth year and this will be its first trip to the world championship.
This year's robot, named Captain Jack because many of its parts have been pirated from previous seasons' devices, is particularly adept at climbing monkey bars. That's one part of each competition.
"We consistently climbed all the way to the top," said Wachtler, a second-grade teacher who has been head robotics mentor (coach) for the past four seasons. The team found out in January what this year's competition consists of, and they got excited about the climbing portion.
"When they saw that they said, 'We are going to build a robot that climbs all the way to the top.' And that's what they did," Wachtler said. "They went on YouTube and found a mockup they liked. With the help of our awesome shop teacher, Eric Nord, they got it done, and they tweaked it and they broke it, and they tweaked it again, and they broke it again.
"It's just a huge trial and error all through the season. They did a lot of problem-solving. We knew we would do well with our climber."
The competition in Grand Forks began on March 25 with qualifying matches. About 1,000 students representing 49 teams from Minnesota and North Dakota took part.
The top eight teams in qualifying rounds then selected other teams to form alliances for Saturday's quarterfinal, semifinal and final rounds.
Kelliher was the last team selected for the No. 1 alliance headed by Greenbush-Middle River. They joined Thunder Robotics from Hatton-Northwood, N.D., and the alliance went on to finish in first place.
"We were thinking we may not get picked at all, and then the No. 1 alliance picked us," Wachtler said."We thought we would be picked just because we had a solid climber."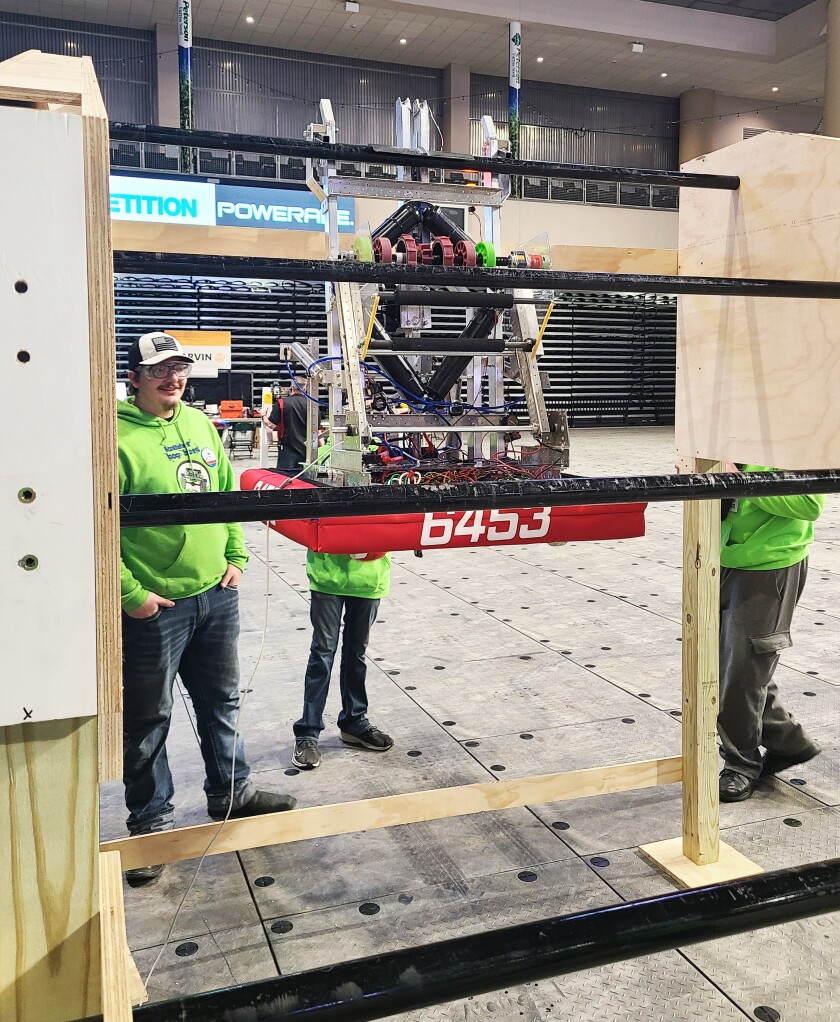 Waldo said qualifying for the trip to Houston makes all the hard work worth it. He will miss part of his track and field season, but he's not complaining about that.
"You only get to do this maybe one time ever, so we're willing to give that up," Waldo said of missing track. "We want to thank our coaches and our mentors. There's only so much we can do, so our mentors are always there keeping us on track and keeping us motivated."
Wachtler said the team members have learned valuable lessons this season.
"Robotics kind of brings students out of their shell, because they do have to strategize with other teams and they do have to talk to people they don't know," she said. "All of this is valuable things that they're learning and will take out into the world with them."
Waldo agrees.
"I'd definitely say I've learned to be more social with meeting people in groups," he said. "Usually it's kind of awkward for me, but going there you need to talk to people to do well or be picked up in an alliance. So you get to be more comfortable talking with people, which can definitely be applied to the real world."
Details of the trip to Houston are still being worked out. The team has received support from sponsors and the Kelliher School Board, but fundraising events will likely be held in the coming weeks.