Cass Lake-Bena's Chris Miettinen recognized for service as graduation approaches
Cass Lake-Bena High School's graduation will take place at 7 p.m. on Friday, May 26.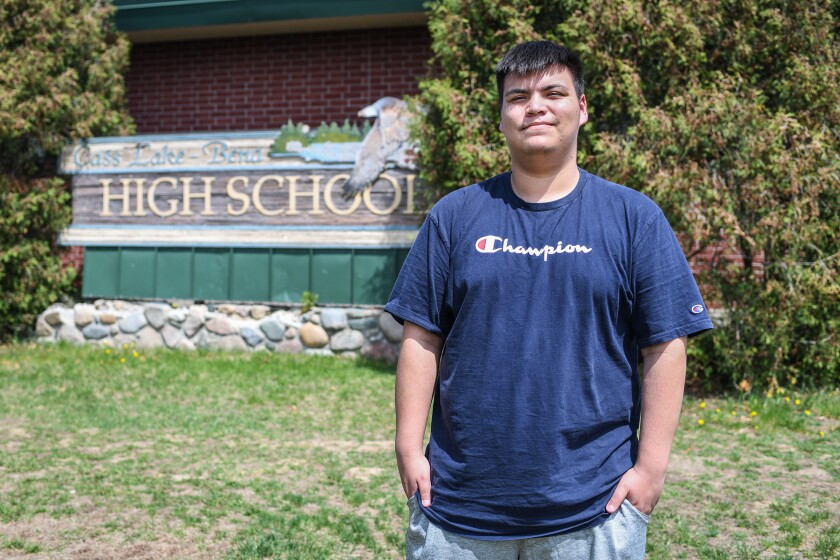 CASS LAKE – Throughout his time at Cass Lake-Bena Schools, Chris Miettinen has been a silent servant.
Described as respectful, helpful and optimistic by staff and other students, Miettinen earned a Silent Servant Scholarship from the Peter R. Marsh Foundation due to his empathy and community service.
"It was actually a big surprise," Miettinen said about receiving the award. "I didn't think I was going to get awarded for something like that. I found it pretty cool that I got awarded for just doing my own thing and being a helpful person."
Among his community service activities, he volunteered over the summer to help cut, collect and stack wood for the winter for a student whose father is awaiting a heart transplant.
"When I was doing that, it just felt nice to help people," Miettinen added.
The Peter R. Marsh Foundation website states that it aims to "provide high school educators with a meaningful opportunity to utilize an in-school award presentation and the award recipient's personal testimony to create a developmentally-receptive audience of student-peers in a 'teachable moment' to learn behavioral empathy and community service opportunities from their educators."
Recently recognized at an honors breakfast with a check and engraved plaque, Miettinen will continue displaying these traits once he becomes the first in his family to graduate high school and begin classes at Leech Lake Tribal College in the fall.
Though he's currently undecided on a field of study, he plans to complete his generals at LLTC before transferring to Minnesota State University, Moorhead. He's leaning toward a business degree, but the specific path isn't quite as important as his decision to simply attend.
"My main motivation was originally just to get through school, but once I hit my senior year, I realized that adult life was coming up," Miettinen said. "I motivated myself this year to push through it and try to get into college."
As an Upward Bound student, he took every opportunity to tour colleges in the area. Driving home Miettinen's optimism, High School Counselor Alisha Hillukka referenced what Upward Bound Director Aaron Allery said about him during the honors breakfast regarding Miettinen on college tours.
"Something he talked about was how he would go on all these college trips and was always a person that was super positive at every single one," Hillukka said. "Even when he went over to (Lake Superior College) and it was snowing and cold, there were no tunnels … and he was like 'I like how close the buildings are together' and 'it's really homey.'"
On the verge of taking his next step, Miettinen credits his teacher Reid Benson for keeping him motivated through all the challenges during his time in school.
"After COVID happened and I came back to school, I had little motivation to do any work," Miettinen noted, "but he kept pushing me to do more and more."
He also credited his dad for his motivation to pursue higher education.
"He's been pushing me to get through high school, but recently he's also wanted to start on college and be on my own," Miettinen added, "and to do my own thing in life."
In light of the future, he looks forward to navigating any other challenges that may come his way while remaining empathetic and other-oriented.
"I try to look for a light of hope," Miettinen left off, "and do whatever I think would be in my best interest and for others."
Cass Lake-Bena High School's graduation will take place at 7 p.m. on Friday, May 26.