Caring and devoted: Willie Stittsworth remembered as a caring teacher, loyal friend and fervent Beaver fan
Willie Stittsworth died on Feb. 25 at the age of 93. A celebration of his life is being planned for 10:30 a.m. on Saturday, June 10, at First Lutheran Church in Bemidji.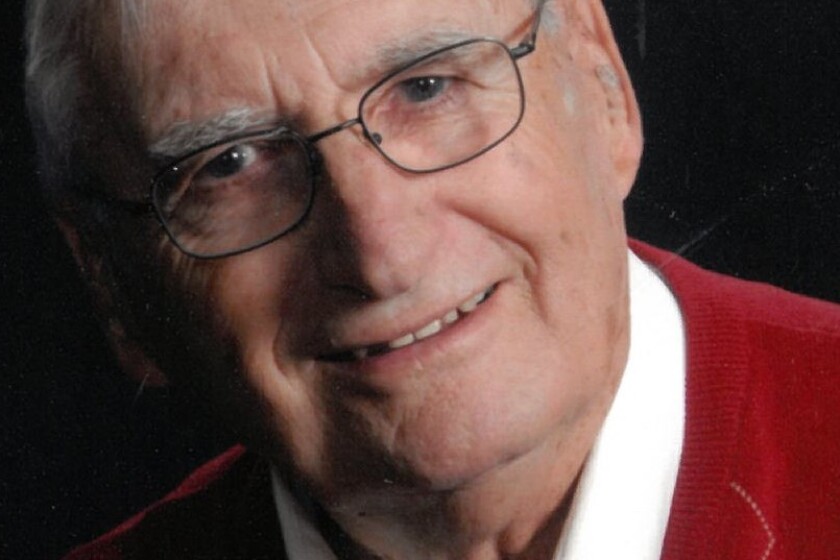 BEMIDJI — Willie Stittsworth is being remembered as a caring teacher, a loyal friend, a devoted family man, a fervent Beaver sports fan … and a magnetic bratwurst griller.
Stittsworth died on Feb. 25 at the age of 93. A celebration of his life is being planned for 10:30 a.m. on Saturday, June 10, at First Lutheran Church in Bemidji.
"In my estimation, and I'm not exaggerating a bit, take the best five people you've ever known, and Willie was one of them," said his longtime friend Dick Gregg, one of the regulars who joined Stittworth for breakfast at Raphael's Bakery and Cafe most mornings. "He never said a bad word about anybody. He was a guy who was always positive. He and his wife, Arla, were two of the nicest people I've ever known."
Willie grew up in Iowa but spent summers working and fishing at his family's resorts on Leech Lake. He fell in love with the area and enrolled at Bemidji State University, earning a bachelor's degree in health and physical education. After serving two years in the U.S. Army, he went on to earn his master's degree. He taught and coached at Hancock, Minn., before moving to Bemidji State for a distinguished 22-year career, retiring in 1989.
In retirement, Willie often donned an apron and served bratwurst made by Stittsworth Meats, the company owned by his sons, Corey and Clay. He manned the brat stand at festivals, tailgate parties and other events throughout the region. While that helped promote the business, Corey said Willie was more interested in chatting with old and new friends.
"You can't just visit the whole time," Corey said with a chuckle. "He used to run those stands just so he could lure people in so he could start them in a conversation."
Grandson Mychal Stittsworth, who now runs the meat business, spent many days at Willie's side working the bratwurst stand.
"His biggest hobby was just people," Mychal said. "He remembered everything about everybody. We were at Ethnic Fest at Walker one time, and I saw a guy come up to him and he expected him not to remember him. But grandpa said, 'I had you in class in 1966, didn't I?' He remembered the guy's name, his wife's name, his kids' names."
Joe Dunn also helped Willie work the brat stand.
"He taught me his secret of serving the brats," recalled Dunn, who also has been a regular breakfast buddy at the bakery. "He was left-handed, so you had to flip the brat with your left hand. He said it didn't work with your right hand. Once I learned that I became a pretty doggone good cooker of brats, even though I'm right-handed. He was proud of that."
When Dunn served as chairman of the Bemidji State Alumni and Foundation, he asked Willie to help with fundraising efforts.
"He did a marvelous job," Dunn said. "When you asked Willie to do something, Willie did it. He was just so good at everything he did."
Willie also was an ardent supporter of Beaver athletics. Dressed in BSU green, he attended many games in several sports and was inducted into the BSU Athletic Hall of Fame in 2017. He and Arla also created the Willie Stittsworth Scholarship, which is awarded annually to a BSU student majoring in Physical Education with a minor in Developmental Adapted Physical Education.
"He and Arla met with the winner every year," Dunn said. "They became very close to those folks, too."
Mychal said he learned many life lessons from his grandfather.
"One thing I noticed was his demeanor," Mychal said. "He was about as patient as they get. I never saw him talk bad about a person.
He added that Willie had one of the better bits of advice that he still tells himself to this day.
"When I went to basic training he said, 'Just remember, the person that controls their emotions controls the situation,'" Mychal recalled. "There's been many times when something irritates you … when you have to remind yourself to control your emotions and see what happens."
Corey said the three attributes he took from his father were dedication, drive and commitment.
Every year on or about May 26, when it was time to celebrate Willie's birthday, anyone seated near the friends' table at Raphael's would get a piece of cake that Joe Dunn ordered for his pal. The cake would be decorated with Willie grilling bratwurst or fishing or cheering on the Beavers.
"We'd cut the cake and everybody who was sitting there got a piece of Willie's birthday cake," Dunn said. "Things like that are very dear to me. Willie Stittsworth was dear to me."