Bountiful blueberries: Lake George lauds the luscious berry
The village celebrated the delicious gem throughout the weekend at its 38th annual Blueberry Fest.
We are part of The Trust Project.
All manner of blueberry-infused items could be found in Lake George on Saturday – from lotions to brats to milkshakes.
The village celebrated the delicious gem throughout the weekend at its 38th annual Blueberry Fest.
Are blueberry brats popular, you may ask?
"Oh, my gosh, yeah. I think we sold out," said Jim Clark, owner of the Woodland Store, estimating that 400 to 500 sausages were gobbled up.
And the Woodland Store was one of several vendors serving blueberry-laced brats that day.
"We've got a butcher shop that produces those and a couple other brats for us. He's got his own special, secret recipe that he does it with," Clark said.
Clark purchased the store eight years ago.
"It was a busy weekend. It's the biggest I've seen since I've been here," he said of this year's blueberry gala. "I think everybody who participated this weekend, who was operating a tent or vendor, I think everybody did well."
In fact, the number of merchants exploded for the 2022 event.
Clark said, "It had been growing every year, kind of doubling every year until the COVID thing happened. We fell off the radar for a couple years, then this year it came roaring back, that's for sure."
Nearly 200 children bustled into the Lake George Town Hall Saturday afternoon for a free carnival.
Community members and local businesses donated 42 kids' bikes for this year's give-away to lucky youngsters.
The Lake George Fire Department fed hundreds Saturday night at their ham and bean feed. They served jumbo blueberry pancakes Sunday morning in the fire hall.
The blueberry season has been "the best ever in 15 years," according to Deb Yennie of First Fruits Blueberry Farms.
"If all goes well, and we don't have overripening or fruit fly problems, I think we'll be harvesting 7,000 pounds or more," she said.
Last year, they only harvested about 2,800 pounds. A late frost devastated 30% of her blossoms.
The biggest bounty prior to that was 4,000 pounds.
This season, the weather has been ideal for berries everywhere, Yennie said, including strawberries.
Yennie dished up blueberry lemonade and blueberry brownies along with the plumb, blue orbs. Her organic blueberries are $8 per pint. She reminded shoppers to never wash them and to freeze right away, if going uneaten.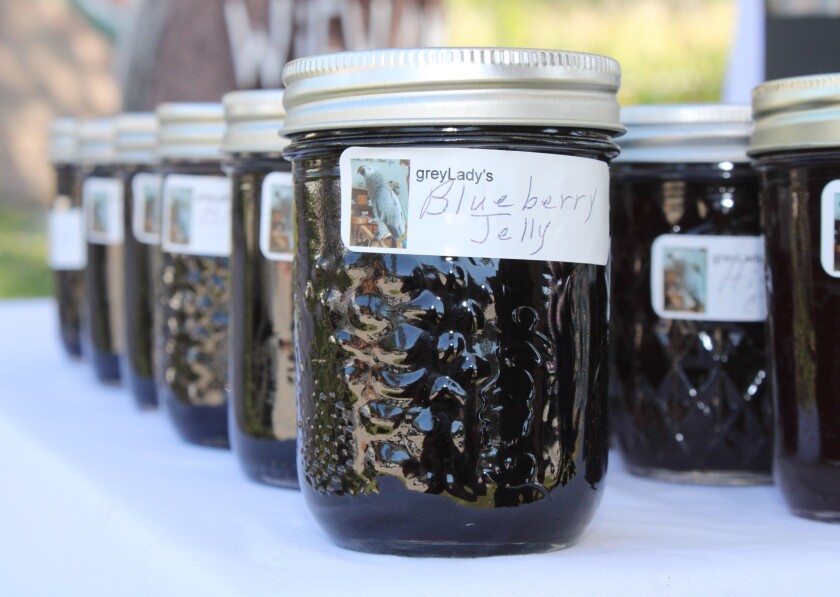 Rosemary Mills of Park Rapids returned to the Blueberry Festival with her "Grey Lady" jams and jellies. Mills offered hot pepper, dandelion – and, of course blueberry – jelly next to the Wigwam. Her sister, Jeannie Kruft, used to run the souvenir shop.
Holiday Gifts for Kids, a program of the United Way of Bemidji Area, is in the middle of its annual effort to ensure that all children who are in need this season and live in the Bemidji area receive a gift.