Bemidji Career Academies Career Fair returns to Bemidji High School
For the first time since fall 2019, around 1,500 Bemidji High School students bustled into the gymnasium and halls for the Bemidji Career Academies Career Fair on Monday.
We are part of The Trust Project.
BEMIDJI — For the first time since fall 2019, around 1,500 Bemidji High School students bustled into the gymnasium and halls for the Bemidji Career Academies Career Fair on Monday.
"We took over two-and-a-half years of postponing and rescheduling, so it's really exciting to get back in the swing of our career fair," Bemidji Career Academies Director Brian Stefanich said. "It's nice to be able to get this large group back together again."
With more than 60 area businesses and colleges to interact with, students had a chance to try out many career areas and consider what their futures may hold after graduation.
"I've been thinking about pursuing welding as it's within my area of interest," student Alexi Smith said. Smith's favorite vendor was Crete and Co., a concrete contractor in Bemidji that had an outdoor set-up at the fair.
"I do that kind of stuff with my dad," Smith added.
While Smith was more sure about what she would like to pursue after high school, other students appreciated the wide array of vendors as a way to be exposed to different options available to them.
"I don't really know," student Harlee Doris said with a laugh regarding post-graduation plans. "I guess I'll pursue construction?"
Some other popular vendors included the Bemidji Steel Company, Bemidji Fire Department and TEAM Industries among many others. Most featured an interactive activity or demonstration where students could experience a "day on the job" or simply win a prize.
"The fair is a good way to sample things, see what you like and find out what you're good at or even find something you didn't know existed," said Laura Carleton of the Idea Circle in Bemidji.
Carleton pointed out the pressure that a lot of students face when choosing their life's path and offered some advice regarding career changes.
"If you ask any adult what they thought they'd be doing when they were 16, they'd likely say 'no,'" Carleton said. "What I always tell students is to figure out what they want to do for the next five to 10 years. Just find something and it'll lead you somewhere else."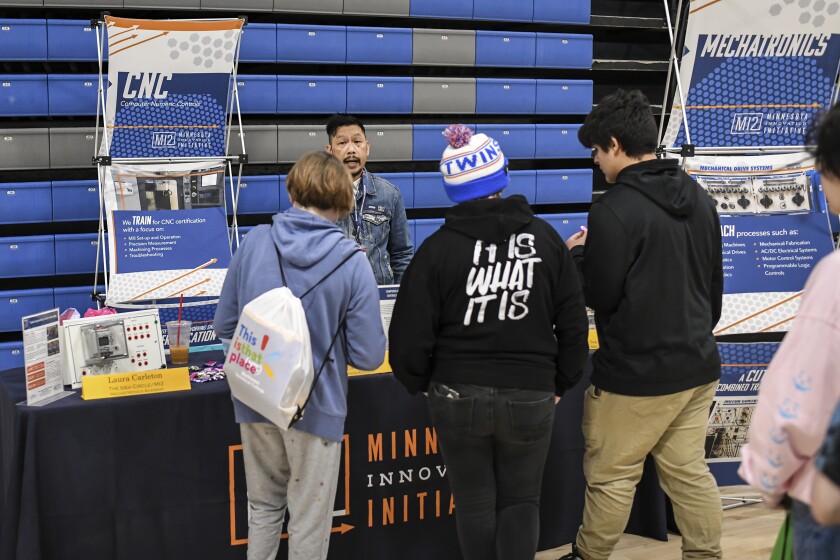 Career Academy advantages
Carleton also highlighted the Mechatronics Academy, which is one of 15 academies available to students, split up by industry. Mechatronics specifically provides competency-based training in electrical, mechanical, computer, robotics and automation skillsets.
Other academies include health, leadership, natural resources management, public service and business among others.
"The academies are relevant to our region, so if we were living in Los Angeles we could have a surfing academy," Stefanich joked. "Almost every business partner we're working with is hiring right now, so this is a great opportunity in the spring if students are looking for part-time work or summer jobs."
Stefanich described real-world experience as the "bread and butter" of Bemidji Career Academies, mentioning that 28 academy students are currently working in paid internships at 12 sites in Bemidji. He also highlighted the possibility of exploring multiple academies at the same time.
"Students will go to a business and learn from professionals all year long," Stefanich said. "There are students in as many as six or seven academies, particularly freshmen or sophomores who might not know what they want to do for a career. They can explore a host of different things."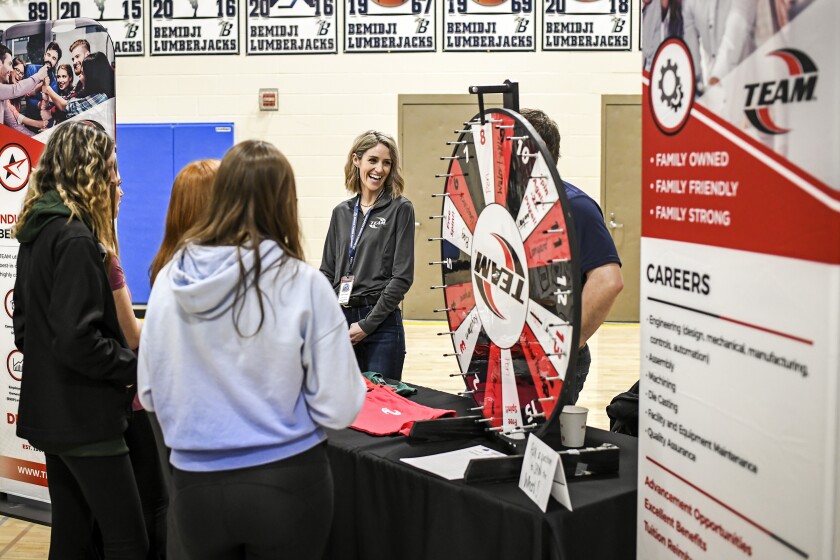 Bringing students to organizations through internships and bringing organizations to the students through the career fair, Stefanich is grateful for the community support that makes it all possible.
"We have over 75 partners, a majority of which sponsor the academies," Stefanich added. "Without their support and opening their doors to bring students on site, our program wouldn't exist."
While the fair has historically been offered to the Bemidji Public School District, future hopes include expanding the fair to invite other area schools.
"We're hoping to eventually open this up to neighboring schools, as well," Bemidji Career Academy Counselor Jenny Fraley said.
In the meantime, Fraley is happy that the career fair and other in-person components of the program have made their long-awaited return to prepare students for the workforce and higher education.
"We're just excited," Fraley added. "The energy we have right now is really good and it's fun to see the students realize what opportunities are available to them."