Beltrami County DFL, GOP await results on election night
Both of the major political parties in Beltrami County celebrated election night on Tuesday with events that featured food, candidates and live results.
We are part of The Trust Project.
BEMIDJI — As election results started to trickle in, both of Beltrami County's major political parties held events to watch the races and celebrate the work done over the months of campaign season.
Both the Beltrami County Democratic-Farmer-Labor Party and Republican Party hosted Tuesday night events to celebrate the election, where party supporters and candidates could gather together before each race's winners were announced.
"It's always fun to watch and see what happens," said Beltrami County GOP Chair Rich Siegert. "We've gotten a big turnout here, now we're just waiting on the results."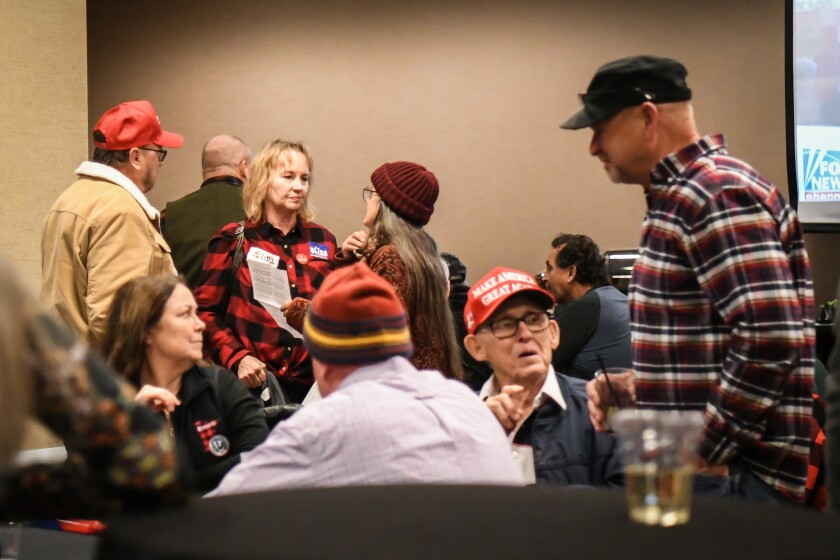 Both parties have focused on three local races for District 2 of the Minnesota State Legislature, and candidates for each of these races attended their respective party's event to talk with supporters and wait for the results.
Held at the Hampton Inn in Bemidji, the GOP event featured all three GOP candidates for District 2 and provided attendees with an opportunity to talk and mingle together while watching live news coverage of the midterm elections nationwide.
"This is a big election, people better pay attention," Siegert said. "I think it's going to be a very close race."
The DFL event, held at the Bemidji Hotel, also had a good turnout and similarly featured live news coverage, local candidates and food for its guests.
"We feel there's going to be some very good results coming out tonight," said Beltrami County DFL Chair Curtiss Hunt. "We've left nothing on the table, and we're feeling good about winning."
With so many of the local seats being held by Republican incumbents, Hunt is hopeful that this election might shake things up. Even if one of the DFL's local candidates wins, Hunt said, it would be a victory.
"Even if we only get one race tonight, it will be a breakthrough in northwest Minnesota," Hunt shared. "We've had absolutely excellent candidates that have put their whole heart and soul into this, and that's the recipe for success."
Election results are expected to come in later this evening. Alongside local races, there are a number of state-wide positions up for election, including the race for Minnesota governor, secretary of state, and attorney general.