10th annual Bemidji Blue Ox Marathon set for Oct. 7-8
The Bemidji Blue Ox Marathon is celebrating 10 years on Friday, Oct. 7, and Saturday, Oct. 8.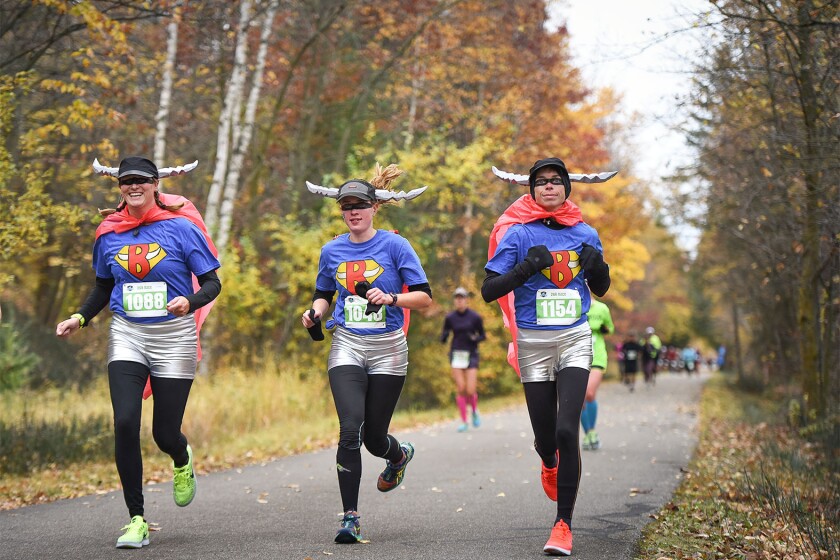 We are part of The Trust Project.
BEMIDJI — The Bemidji Blue Ox Marathon is celebrating 10 years on Friday, Oct. 7, and Saturday, Oct. 8.
The two-day event offers a 5K run/walk, kids fun run, half marathon, full marathon and a 26K lake loop. Friday will be host to the kids' fun runs, 5K and 10K races while Saturday will have the event's mainstays: the half marathon, 26K lake loop and the 26.2-mile full marathon.
According to event organizer Phil Knutson, bouncing back from a virtual format two years ago due to the coronavirus pandemic, his goal for this year's event is to get back to "normal."
"Even though last year was the first year back in person we were still dealing with COVID-19 restrictions. We had to do things like rolling starts and there were much fewer water stations on the course last year," Knutson said. "Lots of things were still limited so some of those things have been brought back."
One of the biggest things last year's event was lacking was volunteers. Traditionally the Blue Ox Marathon brings in over 1,200 registrations and in past years was run by more than 200 volunteers. However, last year the event was pulled off with about 30 volunteers.
"Last year was kind of a skeleton crew," Knutson said. "We're back to having more volunteers and there will be a normal amount of water stops and medical stations on the course among other things."
A lot goes into planning an event like this, which is why organizers like Knutson are already talking about next year. This year, the focus will be on the race itself, but big things are in store for the future.
"The overall weekend event this year has turned into lots of conversation with different groups about next year and years to come, potentially some other organizations coming in so the whole thing can grow," Knutson said. "This year has been kind of the race itself, getting the course back to hopefully more of what it was, but also it's brought more conversation into expanding the whole thing community-wide with more organizations in the future."
For more information or to register for a race, visit the Bemidji Blue Ox Marathon website at www.bemidjiblueoxmarathon.com. There are still some slots available for interested volunteers, to sign up by clicking the volunteer tab. Results will be posted on the Results tab of the website after each race.
Here's a look at the schedule for the weekend.
Pre-registration is required for all races by 11:59 p.m.
4:20 p.m. – Kids Fun Run 1/2K
4:30 p.m. – Kids Fun Run 1K
5 p.m. – 5K Run/Walk
5 p.m. – 10K Run/Walk
9 a.m. – Half Marathon Start at Paul Bunyan Trail, 3 miles north of Sanford Center.
9 a.m. – 26K Start
8:30 a.m. – Full Marathon Start
Runners should give themselves plenty of time to pick up their race packets prior to their events and should be at the start line at least 15 minutes prior to the starting time.
Half Marathon runners must take the buses from the Sanford Center, which will depart at 8:35 a.m. on Saturday.