A new mission: Peter Nordquist returns from Ukraine with plans to go back later this month
After spending nearly two months on a humanitarian mission in Ukraine, Peter Nordquist of Bemidji plans to return to the war-torn country later this month to help provide prosthetics and therapy for civilians who have lost limbs in Russian attacks.
We are part of The Trust Project.
BEMIDJI — This is the time of year when Peter Nordquist prepares for a full summer of sailing from his home on the north end of Lake Bemidji.
It won't be the same this year.
The 66-year-old Nordquist returned last weekend from a seven-week humanitarian mission in war-torn Ukraine. He spent most of his time securing and delivering medical supplies from Poland to a maternity hospital in Ivano-Frankivsk, a city in western Ukraine located southeast of Lviv. He arrived in Europe on April 4 and returned to the U.S. on May 28.
But Nordquist has found a new mission, and he plans to return to Ukraine later this month to help provide prosthetics and therapy for civilians who have lost limbs in Russian attacks.
"There's a great deal of gratification that one receives when they can offer services to people in a crisis," Nordquist said while overlooking Lake Bemidji in an interview Wednesday. "When you can do something good to make their day or week a little bit easier, you have a tremendous amount of gratification.
"That's the same anywhere in the world, but especially in a war zone, and in an unprovoked war. If you can be there to help them pick up the pieces, that's a wonderful thing to do."
While Nordquist was abroad, his wife Laurie sold their condominium in the Twin Cities — as they plan to make Bemidji their full-time home — their two sons bought their first houses in the metro, and their first grandchild, James Roland Stoe, was born. Nordquist is excited to meet James for the first time next week.
"It's great to be back," Nordquist said. "I've never felt so much appreciation for our country. We really have a good thing going here that we take for granted. To see those innocent people over there whose lives are turned upside down is very sad."
Nordquist met an example of life being turned upside down when he hailed an Uber in Warsaw. The driver, Dimitry, was a 23-year-old who studied mechanical engineering at a university in Crimea.
His parents moved to be near their son in Crimea and used their life savings to purchase a home. When not in class or studying, Dimitry helped his father renovate the home. But when Russia invaded Crimea in 2014, the family lost their home, and Dimitry would only receive his degree if he stayed in Crimea or moved to Russia.
His parents advised him not to give in, and instead, he moved to Warsaw where he drives an Uber 14 hours a day, six days a week.
"So there he is, a mechanical engineer trained, young 23-year-old driving me around in an Uber," Nordquist said with a shrug.
Dimitry's parents moved back to southern Ukraine and Nordquist offered to send them money to help them get back on their feet. But Dimitry said his prideful parents would not accept any help, because there were people worse off than them, and Russian attacks were closing in on their town.
Eventually, Peter suggested that Dimitry's father could work to identify people in need, and could receive money to help those people. The father agreed, and Nordquist was able to send funds.
"We finally got him to accept money," Nordquist said. "Then he started sending me photos of people who he was able to help."
Toward the end of his first visit to Ukraine, Nordquist was moved to help the many amputee victims he encountered. He and an associate, Monte Schumacher, decided to start a foundation called Courage Ukraine to raise money and secure prosthetics.
He will return to Ukraine on June 27, anticipating a three-week stay. He and Schumacher will be based in Lviv and Kyiv.
"I've got three people in Ukraine right now finding people who need help," Peter said.
One who needs that help is a man who lost his hand after trying to move an unexploded device away from his home.
"It blew up in his hand, blew his hand off," Nordquist said. "He stopped the bleeding right away and he survived it. But now he's without a hand. So multiply that story by 1,000 and you've got a lot of people there who could use prosthetics."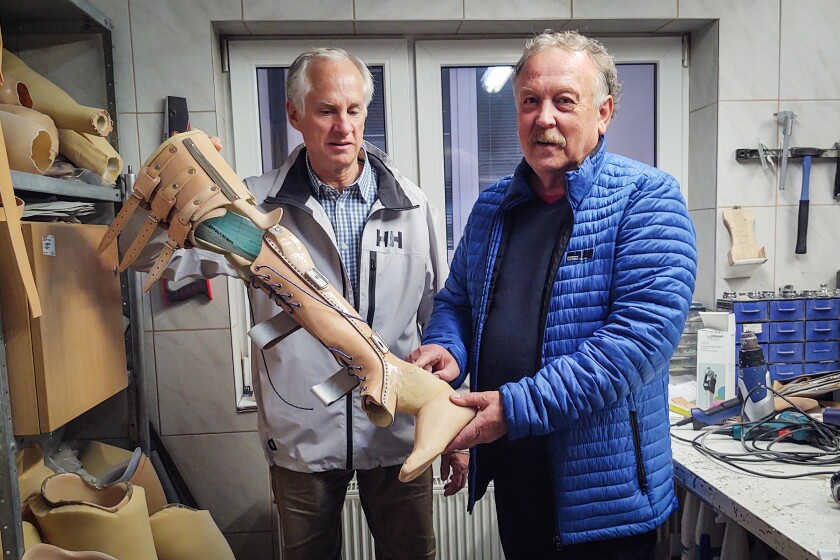 Another couple both became amputees when Russian soldiers fired at them while they were riding in their car. The husband lost a hand, and the wife was shot in the leg, which had to be amputated.
"They were riding in the car, minding their own business, and their car just got inundated with bullets," Nordquist said.
He shrugs off being labeled a hero for his work in Ukraine.
"I knew innocent people were hurting there, and I wanted to be of help in some way," Peter said. "I happened to have the time and I'm in fairly decent health, I can travel. So all those factors came together and made it happen."
Anyone interested in donating to the CourageUkraine effort can visit donorbox.org/ukraine-war-amputee-assistance-fund or Facebook.com/CourageUkraine.
Fundraising is underway to move the giant ball of twine from the Highland, Wisconsin, home of creator James Frank Kotera, who died last month at age 75, 44 years after starting the big ball.
Mike Clemens, a farmer from Wimbledon, North Dakota, was literally (and figuratively) "blown away," when his equipment shed collapsed under a snow load.