MASTER GARDENER: A child's garden of books
Have you given up on getting the kids to help in the family garden? You might try a new approach through books.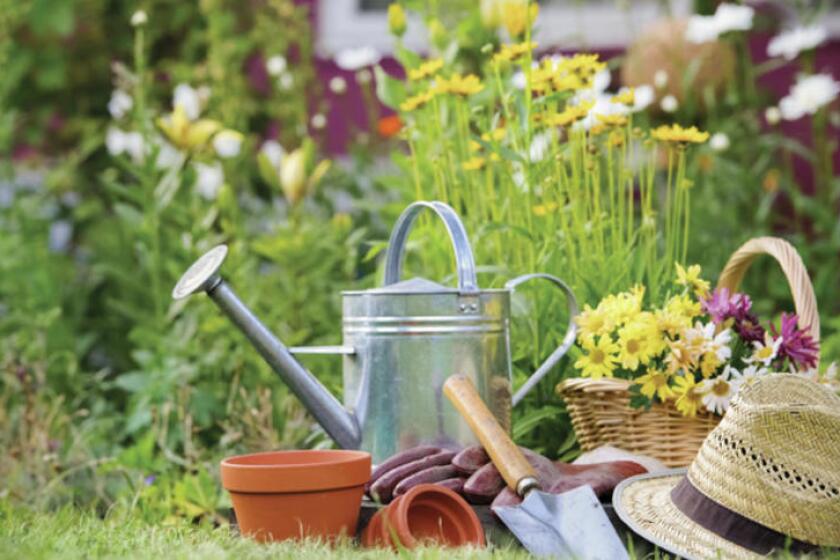 Have you given up on getting the kids to help in the family garden? You might try a new approach through books!
We all appreciate the benefits of reading with and to our children. We cherish having lap time, getting close, feeling a child's excitement build up and promoting the love of reading.
There is an abundance of children's books published on the subject of gardening. Reading together may be the key to getting help with your family's veggie patch.
There are two categories of gardening books for children. One type is simply to be read to the child while enjoying the vivid illustrations and discussing what each page shows. The other would be for you to read to your child to be a springboard for age-appropriate gardening activities. Here are some delicious suggestions to harvest from your library.
"The Very Hungry Caterpillar" by Eric Carle, for children ages 1-4. Published in over 70 languages, this classic has thrilled children since 1979. A child who falls in love with this cute caterpillar will surely respect any potential butterfly he meets on the sidewalk and leave it unsquashed.
"The Tiny Seed" by Eric Carle, for children ages 2-6. The classic story of the life cycle of a flower is told through the adventures of a tiny seed.
"Ladybugs" by Mia Posada, for children ages 4-8. Bright illustrations and easy-to-read text make this a perfect read for the young nature lover. A trip outdoors to find a ladybug is sure to be a hit.
"Horse and Buggy Plant a Seed" by Ethan Long, for children ages 4-8. This hilarious duo plants a seed and learns patience as they wait for their seed to thrive with lots of water and sunshine. The result is a giant squash! You can do the same.
"The Big Book of Blooms" by Yuval Zommer, for children ages 3-7. One in a series of books, this publication has picture book charm with concise, informative text to help children identify flowers, learn about various habitats, which flowers are endangered as well as grisly details about carnivorous and poisonous flowers.
"Up in the Garden and Down in the Dirt" by Kate Meissner, for children ages 2-5. This story follows a young girl and her grandmother on a journey through the year planning, planting and harvesting their garden. Readers will learn about what's happening in the dirt to help make it all happen.
"Flowers" by Gail Gibbons, for children ages 4-8. With clearly-labeled diagrams, infographics, and accessible language, Gibbons introduces the basics and life cycle of flowers.
"It's Our Garden" by George Ancona, for children ages 5-8. Want to grow what you eat and eat what you grow? Visit this lively, flourishing school and community garden and be inspired to cultivate your own.
For gardeners who have grown
"Gardening Lab for Kids" by Renata Fossen Brown, for children ages 7-10. Brown guides your family through fun activities that are also lessons about botany, ecology, the seasons, food, patience, insects, eating and cooking. Experiments!
"Stanley Jr. Gardening is Awesome" by Stanley Jr. and Chris Peterson, for children ages 7-9. Kids can jump right in with an introduction to gardening. A complete basics section on vegetables, fruits, flowers, trees and shrubs kicks things off. You'll also learn how to make super soil and keep plants happy with the right amount of sunlight and water. There is also a complete list of garden gear.
"Roots, Shoots, Buckets and Boots" by Sharon Lovejoy, for children ages 3-9. Chocked full of easy-to-implement ideas for theme gardens that parents and kids can grow together. There's a pizza garden, a moon garden and mother nature's medicine chest illustrated and complete with easy-to-follow instructions.
"Toad Cottages and Shooting Stars" by Sharon Lovejoy, for children ages 7-12. Lovejoy is a grandmother of four and the author of two classic books of garden activities for grown-ups and kids. This is an inventive resource for grandmother and grandchild to connect with each other through nature. It is the book to make sure an afternoon, a day or a weekend turns into a memory that lasts forever.
Wishing you luck as you develop gardeners who love to read and readers who love to garden!
These local garden articles will reach you each week throughout the gardening season, but gardening information can be found year-round by clicking on "Yard and Garden" at the University of Minnesota Extension website, www.extension.umn.edu, or by visiting our Facebook page at www.facebook.com/Beltramicountymastergardeners.
Local Master Gardeners will respond to questions via voicemail. Call (218) 444-7916 and leave your name, number and question.