How a journey on the Superior Hiking Trail helps children's cancer research, 25.5 miles at a time
We are part of The Trust Project.
LUTSEN, Minn. — It was a long day, and it had its ups and downs.
"We started at 4:30 in the morning," Jodi Wegge recalled. "And we got off the trail — I want to say we got off the trail at 4:30 in the afternoon."
Wegge, 54, of Aitkin, was talking about a 25.5-mile journey last August on the Superior Hiking Trail. The hike out of Lutsen features some of the trail's most ambitious climbs.
"You've got Lutsen Mountain and Oberg Mountain and Carlton Peak," Wegge noted.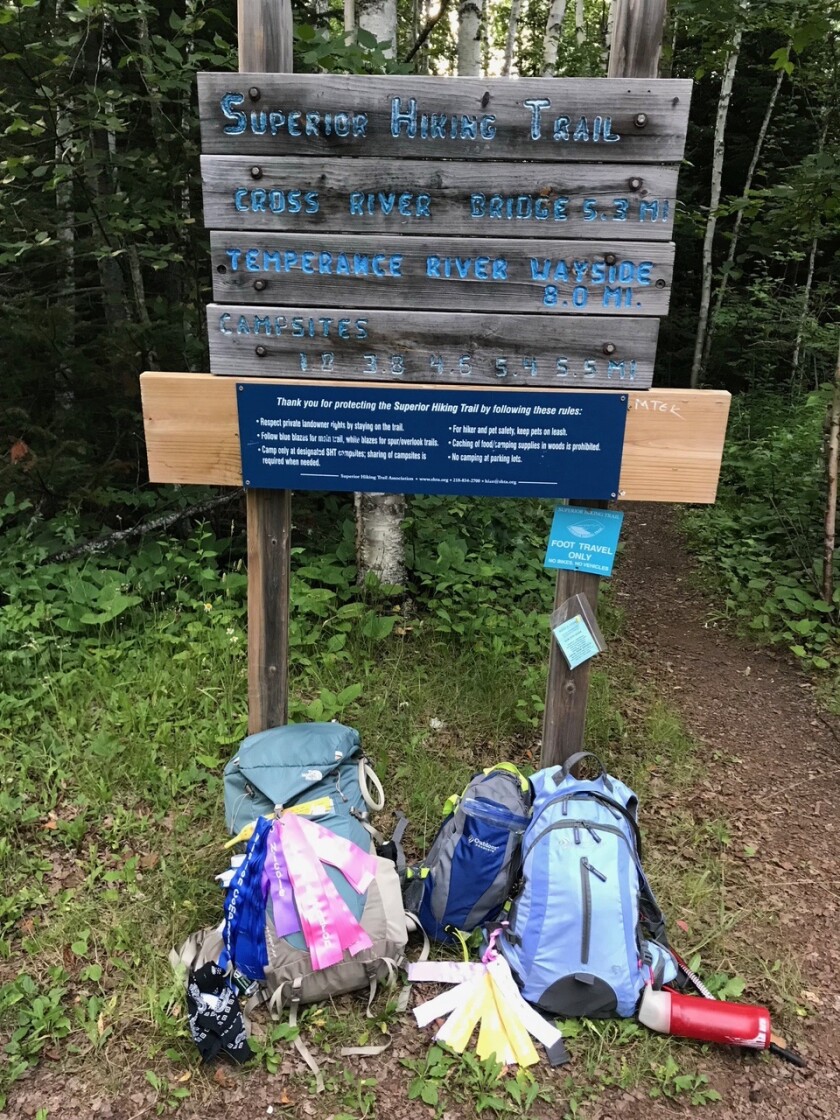 Wegge and 47 others weren't just out for a walk in the woods. They were hiking on behalf of a group of people who, Wegge says, are on a much more difficult journey.
"It was absolutely amazing," Wegge said. "And then to get done and know that it wasn't even half the battle that Megan had done, or the other kids."
Wegge was referring to her daughter Megan Wegge, now 20, and all of those afflicted with cancer as children.
In April 2011, when Megan was 11 and the Wegge family lived in Moose Lake, doctors removed a softball-sized mass from Megan, along with half of her liver. She was diagnosed with a highly malignant form of liver cancer. She faced a grim prognosis.
Her difficult journey included Indiana University, where she was treated at a Proton Therapy Center, one of only nine such in the country at that time. It made it possible to target radiation to where it was needed so that the doses could be stronger than otherwise would be possible.
Grateful for medical progress that increased the hopes that Megan would win her fight, Jodi became an enthusiastic supporter for an organization called CureSearch, which specifically raises money to support pediatric cancer research.
"What we're really looking to do is to move things along quickly, and to focus on drug development," said Brecka Putnam, a senior campaign manager for the nonprofit. So in the last four years, there have been only four (cancer) drugs developed specifically for children. "If you think about when you or I have a cold or the flu, we would never give what we take to one of our children. We would give them something formulated and designed with kids in mind. Unfortunately, we don't always have those options with cancer treatments."
Every day, 43 kids are diagnosed with cancer, Putnam said. One out of eight of them doesn't survive. But two out of three of those who do survive suffer "devastating, lifelong side effects."
CureSearch is funding for research in hopes of finding more effective and age-appropriate treatments for childhood cancer, and one of the ways it raises money is through its Ultimate Hikes.
Putnam was hired nine years ago to manage "walks around lakes," she said, and two weeks after she was started was asked to arrange long, single-day hikes as fundraisers.
She loved the idea.
The first two hikes, that year, were in South Carolina and Lutsen. There now are seven across the country. The hikes range from 20 to 30 miles, Putnam said, with the length determined by "what Mother Nature dictates."
Shorter hike distances can be arranged, Putnam said, but each hiker is responsible for raising $2,500. Just a couple weeks ago, she said, the Ultimate Hikes broke through the $6 million mark in money raised for children's cancer research.
Jodi Wegge had wanted to participate before, but hadn't been able to find a training partner. In January 2018, she decided she was going to go for it regardless. She was joined by two other women, however, in Megan's 2Crew — the "2" for the number on Megan's hockey jersey.
They had trained determinedly, Wegge said, and felt confident going into the hike. She even hiked a little farther so that her hike would be the same length as a marathon.
But it was an emotional experience, she said.
"When you go to hike, they ask if you're hiking in honor of anybody and if you are, then you send photos of that person," Wegge said. "And so as you turn the last corner and you're coming down the home stretch, they have all these great big posters in the ground with, 'In loving memory of,' or 'In honor of.' So it's pretty touching."
All of Jodi Wegge's family were there to cheer her on, including Megan, one of a set of triplets. Now a pre-med student at Concordia College in Moorhead, Minn., Megan is an eight-year cancer survivor in good health. But she hasn't escaped the residual effects.
"My body is still healing," Megan said matter-of-factly in a phone interview from Fargo where she works as a research assistant at a hyperbaric clinic while taking summer classes at Concordia. "There are days when I have some pain. ... The muscles in my back and abdomen are very off-balance because of all the surgeries and radiation."
Megan Wegge's story has been chronicled a few times over the years in the News Tribune and in the Pine Journal, most recently in a Jan. 28, 2016, story about her exploits on the Moose Lake Area girls hockey team.
But she had to give up hockey during her senior year in high school, Megan said, because the pain had become too intense. But she's philosophical about that. She loves to hike with her mom and she works out regularly, she noted.
And she's far from inactive. She qualified as an EMT when she was 18 and as a certified nurse assistant before that. She was taking college classes during her junior and senior years of high school. Her career goal is to be a trauma surgeon or involved in trauma medicine.
"Trauma for me is really exhilarating," Megan said.
She's being treated at the hyperbaric clinic where she works. Four sessions in, her radiation scar is becoming less vivid and less sensitive to the touch, she said.
She knows that without groundbreaking treatment that came out of previous research, she probably wouldn't have lived.
"All the other treatment options weren't working," Megan said. "The doctors said the chance of surviving was really slim."
She had confidence last year in her mom's ability to complete the Ultimate Hike, she added.
"Knowing my mom, I knew she was going to accomplish it, and I knew it was such a good goal," Megan said. "She had so much motivation."
Jodi Wegge won't be hiking this year. Instead, she and one of her teammates are serving as coaches for a newly formed Twin Ports training group. Although hikers are welcome to train on their own, the coaches lead training hikes and offer tips on completing the hike and on fundraising.
So far, seven people are part of the Twin Ports group, but Wegge believes there could be more.
"I think that Duluth is the city," she said. "If we're going to get a bunch of people to go hiking and do amazing things for CureSearch, Duluth is the city. You've got all the Minnesota Nice people. You've got an excellent organization that is working hand-in-hand with you to succeed. And then you've got the most beautiful country ever, and the most beautiful hiking trail."
Get involved
Learn more or sign up for the Superior Hiking Trail Ultimate Hike at curesearchevents.org/site/TR?fr_id=1791&pg=entry .