GENERATIONS: Foster grandparent Elsa Znajda connects with first-graders at Horace May Elementary
Foster grandparents bring a wealth of life experience to a classroom and Elsa can relate to children who have experienced challenges and had to learn how to fit into new situations.
When I arrived in Alvina Morrison's classroom at Horace May Elementary, the first-graders were taking their weekly spelling test.
The classroom foster grandparent, Elsa Znajda, worked with one student at a desk near the door. She looked up briefly, smiled and resumed her focus on the boy. Within the next 30 minutes, several other students worked with Elsa, practicing reading or getting individual help with whatever the student needed.
Elsa and Alvina have worked together for several years — first when Elsa was a part of the Minnesota Reading Corps and for Alvina and Elsa are an efficient two-woman team, constantly appraising the room, zeroing in on the needs and behaviors of the students, and intuitively following up with whatever is needed.
They didn't speak to each other much while I was there but operated like a well-tuned machine, flowing from one activity to another: Alvina, following a well-mapped-out assortment of individual student learning plans; Elsa, calling students to her desk to read for her, addressing interruptions and off-task behaviors, and calmly redirecting students.
"Awesome" was the first word Alvina had used to describe Elsa to me. "She's helpful, kind, personable; she notices things. The kids love her."
She described Elsa as "low-key energetic," a good balance to the often restless energy of first graders. She also brings treats for special occasions. When the school year ends, Elsa continues to volunteer as a foster grandparent for the summer school program.
As I watched the dynamics of the classroom that morning, Elsa's low-key energy was evident: One minute she calmly addressed a student who had disregarded a directive to put a distracting toy away; the next minute she was stretching her arms wide — as if exaggerating the size of a fish she'd just caught — and telling a young reader, "This is how much your reading has improved this year!"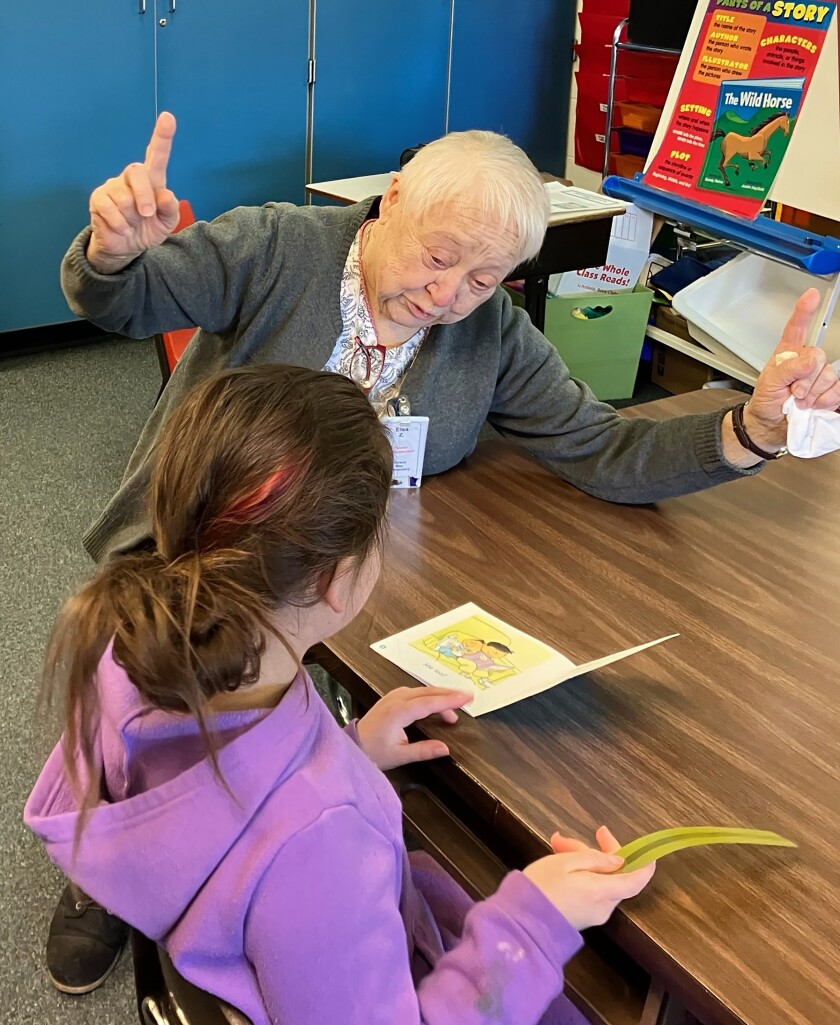 The Foster Grandparent program is a part of the AmeriCorps Seniors Volunteer Program, sponsored by Lutheran Social Service of Minnesota.
Their manual tells candidates, "You are about to embark upon a fulfilling volunteer experience where you will not only be helping others but will also find a positive, life-enhancing opportunity." The federally funded program has been around since 1965 and according to the manual, involves over 250 Foster Grandparents across the state.
The AmeriCorps Seniors Volunteer Service is for people ages 55 and older in good general health with flexible schedules and availability. Volunteers commit to at least 10 hours of weekly service. Elsa keeps a time sheet and receives an hourly non-taxable stipend and transportation reimbursement. "President Biden just gave us a raise!" she told me. "We're getting a $4 an hour stipend starting in April!"
Foster grandparents bring a wealth of life experience to a classroom, and Elsa's is particularly rich. Born in Argentina to Polish immigrant parents and herself an immigrant to America as a child in 1955, she was raised in Connecticut and has been a Minnesota resident for 32 years.
Elsa can relate to children who have experienced challenges and have had to learn how to fit into new situations. Her work experience has ranged from serving as an aide to a physical therapist and a maintenance therapy supervisor in Warroad to a receptionist for Experience Works and a reading instructor with Minnesota Reading Corps.
She also volunteers with People's Church and helps with Ruby's Pantry. She studies Tai Chi and is looking forward to starting a Slow Flow Yoga class.
"I don't want to lose my back, you know," she said.
When Elsa learned about Reading Corps, she went to the training and learned how to work with students K-3 on the 12 major components of reading. She worked in Cass Lake for a year before coming to Bemidji.
"I fell in love with first graders," Elsa said. At Horace May, she got to know Alvina, the internal director for Reading Corps there. Normally Reading Corps has a four-year limit, but Elsa was allowed a fifth year because the program had low numbers of volunteers at the time.
Then she learned about the Foster Grandparent program. She wanted to stay at Horace May. "I love the school," Elsa said. "The teachers and the staff are fantastic, so I signed up for the Foster Grandparent program. That's where I've been for the past four years and I love it! I love those first-graders. They're such little sponges; they pick up so much."
With the outbreak of COVID-19 in 2020, things changed dramatically at school, but even a pandemic didn't keep Elsa from working with the students.
"For a while, everybody was at home and then the youngest kids went back to school," Elsa said, but foster grandparents were not allowed at school that spring, "so I got books and passed them out to those little libraries."
Alvina set up a computer in the classroom with Google Meets and the students could still work with Elsa every day online.
Alvina said, "She was on the computer at home and the kids would read to her, she'd listen to them reading and go through flashcards with them."
Elsa said the "distance reading" was not ideal, but it was a way to help out and stay connected.
"Teaching reading online is not as good," Elsa said. "That was tough, let me tell you."
She was glad when she was allowed to go back into the classroom. "We (foster grandparents) had to wear a mask, even though nobody else did, so that's what I did. I don't mind wearing masks. I was just so happy to be with the kids."
This school year Elsa is back to volunteering five days a week. Alvina says she couldn't do everything she does in the classroom without Elsa.
Elsa says the Foster Grandparent program is wonderful "and it also benefits us. I get to meet new people — other foster grandparents and people in the Senior Companion program when we have meetings — and that's really nice.
"It keeps your mind going, you know?" she added. "If you sit home and just watch TV, you're not growing, you're stagnant, and I like to keep busy."