Bemidji State nursing students travel to China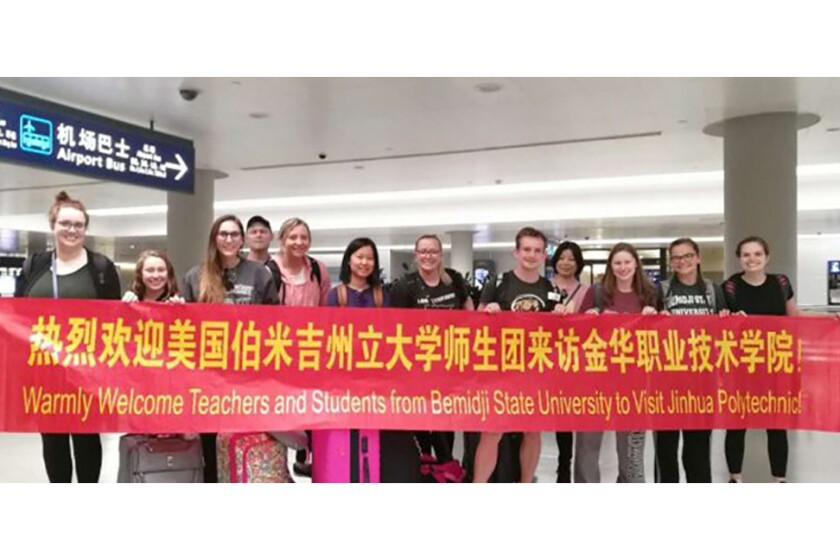 We are part of The Trust Project.
BEMIDJI -- Bemidji State University faculty have plans to repeat a new Chinese study abroad program they say brought knowledge and cultural awareness nursing students in May.
BSU students were hosted by Jinhua Polytechnic, a Chinese university located in the Zhejiang province. During the trip they were accompanied by Jo Li, Northstar visiting scholar coordinator and Jeanine McDermott, associate professor of nursing at BSU. There were 10 students in total who made the trip.
"The reason we picked our location is because Bemidji State University's nursing department has had a collaborative relationship with Jinhua Polytechnic since 2015," McDermott said.
In preparation for the trip, students were required to take a course called "Global Health Perspective in Nursing: China." The course prepared them for travel, introduced basic Chinese language and taught them about the political and religious views of the country. That course was co-taught by Li and Carolyn Townsend, associate professor of nursing at BSU.
McDermott said students expected to learn about those who differed from themselves, but didn't expect to find so much personal growth during the experience. She added that the peer mentoring and relationship aspects of the trip were valuable to the students according to reflection essays turned in after the trip.
"In my opinion, there is no such thing as regional living anymore; we are very global -- it really helps them see the perspective when they are not apart of the major cultural group in an area," McDermott said. "To live it is different than to learn it in a classroom."
During the trip, students had the opportunity to compare American health care practices to those in China, and they also visited a western hospital where they were very surprised with the large, urban feel to it, McDermott said. Students also visited a pharmacy where roots and herbs were found, processed and given to patients for prescriptions.
Along with the learning experiences, McDermott said students had their fair share of sightseeing, visiting museums and learning about the area's history. The group visited a tea plantation in Hangzhou, Zhuozheng Garden and other historical sites around the cities.
The nursing department hopes to continue this program and are already working to bring it back in 2020.
"We have had a meeting with our dean already and the International Program Center -- it will be similar where they do a preparation course," McDermott said. "We want to make this as accessible as possible to as many nurses in our region that would like to experience nursing holistically."