Setting the stage: Bemidji's long-running open mic event has been a springboard for some
BEMIDJI--Brian Miller was on the East Coast last week performing with his Irish music band Bua. The group was on a concert tour of Virginia, Maryland and West Virginia.
BEMIDJI-Brian Miller was on the East Coast last week performing with his Irish music band Bua. The group was on a concert tour of Virginia, Maryland and West Virginia.
But Miller, who grew up in Bemidji, took a few minutes to reminisce about the encouragement he received from his hometown when he was a 16-year-old budding musician. Among his early "gigs" were open mic performances at the Northwoods Folk Collective First Friday Coffeehouse. He and fellow Bemidji High School student Eric Carlson took the stage at Griffy's (now Raphael's Bakery Cafe), not knowing what to expect from the audience.
"I remember it being magical," Miller said. "I feel great nostalgia, lucky to have had that experience. I've been to lots of open mic nights since then, and they often don't feel as warm as supportive and exciting as those nights felt. For us it was the highlight of the month."
Twenty some years later, the Friday night event is still going, albeit under a different name these days. Now called Headwaters Open Mic CoffeeHouse, it still attracts budding musicians, poets and writers who perform in front of supportive audiences.
The next one is scheduled Friday, Oct. 5 at Headwaters Music & Arts. It starts at 7 p.m., with an admission charge of $3 or $7 per family. Dennis Montgomery will be the emcee.
The Northwoods Folk Collective First Friday Coffeehouse got its start in the fall of 1994 at Griffy's. Montgomery, a folk singer who has helped with the event from the beginning, said owner Tom Staker agreed to open the restaurant in the evening one night each month to host the collective.
"It took us an hour to set up and an hour to tear down," Montgomery said. "We took down plants, moved tables around, set up a sound system and put a stage in the window." He said it sometimes drew such a crowd that people would wait outside until somebody left so they could come in.
"We had some friends from out of town come to one," Montgomery recalled, "and they said, 'People in Bemidji are weird, they like to perform for each other' and that's exactly what it was, like an every month talent show."
Last year, Montgomery and Don Zieman approached Tricia Andrews, executive director of Headwaters Music & Arts, about reviving the event. Andrews gave the OK with the caveat that organizers provide volunteers for emcees, sound, tickets, setup and teardown.
One of those who stepped forward was John Henningsgaard, a newly retired teacher.
"Tricia was a yes person," Henningsgaard recalls. "She said we can make that work. When I retired this was one thing I wanted to throw my hat into. I had some extra time."
Henningsgaard has been an emcee and performer at the CoffeeHouse events in the past year.
"When we moved to town 20 years ago ... I'm not sure how we heard about it but we just came down and really enjoyed the scene," he said. "I had been playing music a little bit and I had some friends I was playing music with up here, so I got to play with different ensembles. It was so supportive and the people just turned out. Hundreds of people. It was wonderful."
Over the years, the event has moved to other venues, gone away for a time and been revived. It has been held at places like Uptown Caffe (now Wild Hare), the old Masonic Temple and Rail River Folk School.
But no matter the venue, the name of the event or the organizers, it continues to showcase the talents of area musicians, poets and writers.
It certainly helped send Brian Miller on his way to a career in the music industry. Miller lives in St. Paul and is a self-employed musician, teacher and librarian. He performs with four different groups. Besides Bua, he plays with Randy Gosa in The Lost Forty; in a duo with his wife, Norah Rendell; and in the Two Tap Trio with Rendell and Nathan Gourley. Brian also teaches music and runs a small cultural heritage library in St. Paul's Celtic Junction Arts Center.
Miller, Carlson and classmate Karl Espe formed a band, The Gaels, during their senior year at BHS and got their start at the First Friday Folk Collective before moving on to the Twin Cities as college students.
"In retrospect it was the community around the open mic night that was the most earth shattering thing," Miller said. "We were really into the music we were doing, but getting welcomed into that community sort of set us on a path that we're still on."
1
/
4:
Cate Belleveau reads one of her poems during a recent Headwaters Open Mic CoffeeHouse. (John Henningsgaard | For the Pioneer)
2
/
4:
Headwaters Open Mic CoffeeHouse attracts a variety of performers every month. (John Henningsgaard | For the Pioneer)
3
/
4:
Carolyn Jacobs has been one of the hosts for the Headwaters Open Mic CoffeeHouse. She and husband Chuck Meyer perform a song during a recent open mic event. (John Henningsgaard | For the Pioneer)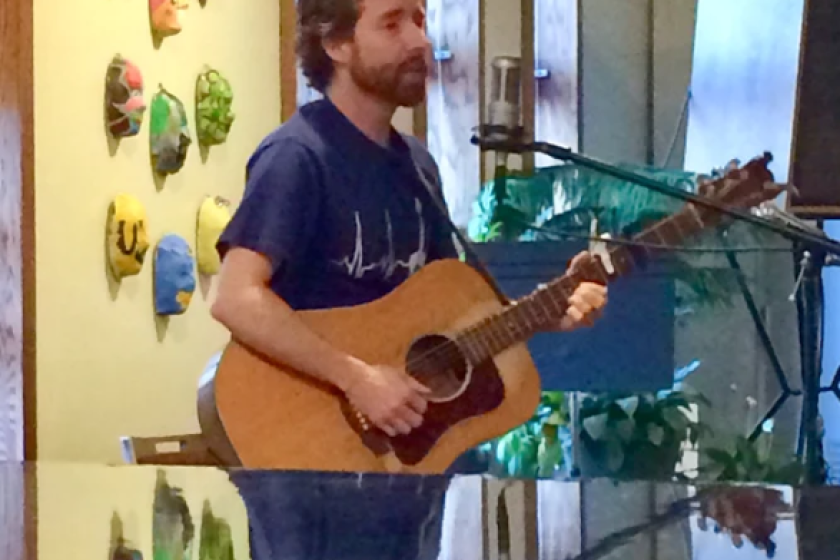 4
/
4:
Lance Benson is one of many local musicians who have used the Northwoods Folk Collective First Friday Coffeehouse as a springboard to success. (John Henningsgaard | For the Pioneer)