MASTER GARDENER: Harvest the benefits from companion planting
When veggie "companions" are grown alongside vegetables in nutrient-rich soil, the vegetable crops are more likely to thrive and do so with fewer issues, thereby minimizing the need for insecticides or chemical fertilizers.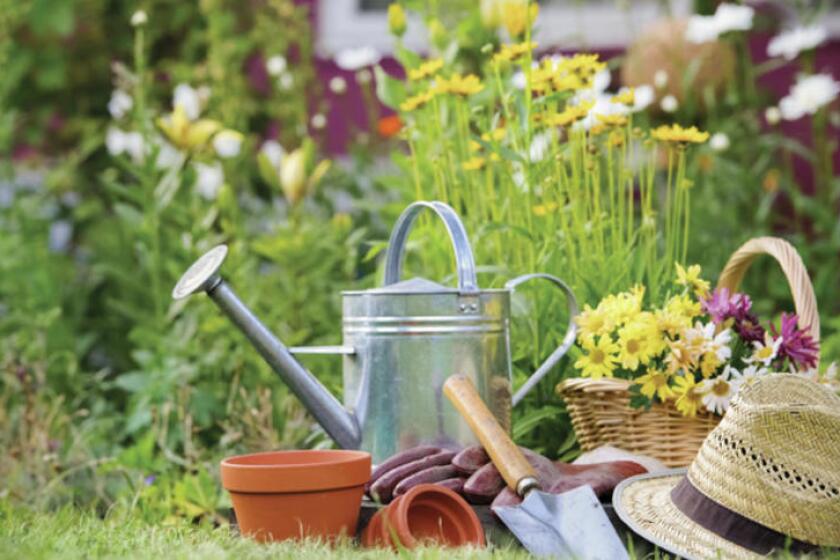 We are part of The Trust Project.
What is companion planting? Companion planting is all about intentionally pairing flowers and herbs with specific vegetable plants to lessen potential problems with harmful pests and related diseases.
When veggie "companions" are grown alongside vegetables in nutrient-rich soil, the vegetable crops are more likely to thrive and do so with fewer issues, thereby minimizing the need for insecticides or chemical fertilizers.
Of course, the double benefit of successful companion planting is that critically needed pollinators are not exposed to toxins. Not all companion plants fill the same niche.
Depending on the species, companion plants may build and improve soil quality, repel pests, attract beneficial insects and improve disease resistance.
Let's consider, as an example, companion plants for carrots. Carrots can be grown with a variety of companions including fragrant herbs like thyme and basil, multi-purpose marigolds, and other vegetables such as onions to ward off harmful pests.
Onions repel the carrot rust fly and aphids, while also attracting predators of the carrot rust fly. Strong smelling onion relatives, like garlic and chives, may work as well. The onion/carrot partnership is synergistic; onions grown with carrots tend to suffer less damage caused by thrips.
In case you are thinking this article is too late for your garden, the time is approaching to start a second planting or succession planting of some vegetables (60-75 days variety) for fall harvesting. Now is also the time to benefit from half-price sales for many effective companion plants.
Of course, there are additional planting and growing practices one needs to do for optimum success and a productive carrot yield that I will not address here. For the purposes of this article, I will stick to effective companions for a few vegetables that can be found in most gardens.
Another popular, northern-climate crop that unfortunately attracts a myriad of destructive pests is broccoli. Broccoli fans will attest to the unbeatable flavor and crunch of broccoli florets picked fresh from the garden.
Delicious and healthy as this green cruciferous can be, fending off aphids, harlequin bugs, caterpillars and flea beetles can take much of the enjoyment out of growing and eating broccoli.
Companion planting will ease the stress for you and for your broccoli crop. When paired with broccoli, some species of companion plants can discourage pests, attract predators to eat pests and suppress weeds, not to mention improve soil health.
Trap cropping is a method of companion planting in which the companion plant, beloved by pests, is sacrificed. Trap crops are actually preferred by certain pests and can be used to lure pests away from the broccoli plants.
When trap plants are interplanted among the broccoli and also in a parallel, independent row, two different pests, flea beetles and harlequin bugs are lured from dining on the broccoli plant.
Crucifer flea beetles eat small holes in the leaves of broccoli and its relatives (cabbage, cauliflower, kale, etc.). Does any of this sound familiar to you? Mature plants can survive some damage caused by these small black beetles, but an infestation can be devastating to seedlings.
Try interplanting fava beans, common vetch or white clover with the broccoli making it harder for the flea beetle to find and dine on the green veggie.
If you have struggled with flea beetles in the past, grow a crop of radish, pak choi or Chinese mustard greens as early as possible in the growing season. Design your garden with alternating rows of trap crops and vegetables for best results.
Lastly, aphids, widely known and detested pests, hone in on the cruciferous crops by recognizing the contrast between the crops and the bare soil in the background.
Mustard greens are an effective companion plant to camouflage vegetables both visually and aromatically from aphids.
Before I leave the row(s) of broccoli and its many relatives, I'll also add flowering plants in the aster family (including cosmos, black-eyed Susans, sunflowers, daisies and zinnias) to attract and support beneficial insects that prey upon aphids and other pests; plus they add delightful color to your green and growing garden space.
There is more to know and consider when planting the "main attraction" vegetable in your garden row, and then providing backup and support with companion planting.
These local garden articles will reach you each week throughout the gardening season, but gardening information can be found year-round by clicking on "Yard and Garden" at the University of Minnesota Extension website, www.extension.umn.edu, or by visiting our Facebook page at www.facebook.com/Beltramicountymastergardeners.
Local Master Gardeners will respond to questions via voicemail. Call (218) 444-7916 and leave your name, number and question.